Jax Slayher's Signature 10 inch ULTRASKYN Cock
April 24, 2023 by admin.
Born on November 2, 1990, in Denver, Colorado, Jax Slayher (birth name: Joshua Porter) had a relatively unassuming upbringing. He was raised in a close-knit family, and although his early years were relatively ordinary, they laid the foundation for his eventual foray into the adult film industry. Prior to entering the industry, Slayher held various jobs, including working as a personal trainer and a model. However, his natural good looks and magnetic personality soon caught the eye of adult film talent scouts, and in 2015, at the age of 25, he decided to take the plunge and pursue a career in adult entertainment.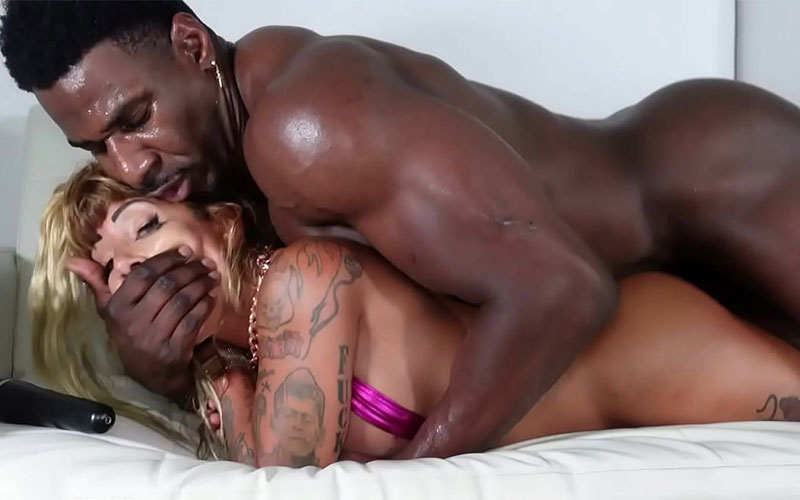 Jax Slayher's rise to prominence in the adult film industry was nothing short of meteoric. Within a short period, he began to gain recognition for his performances, and his fan base grew rapidly. His initial collaborations with renowned production companies such as Blacked, Tushy, and Vixen helped to cement his status as a rising star in the industry. Slayher's ability to adapt to different roles and genres allowed him to explore various aspects of the adult entertainment world, from mainstream films to more niche productions.
Throughout his career, Jax Slayher has had the opportunity to work with some of the most iconic figures in the adult film industry. These collaborations have not only helped to enhance his skills but have also contributed to his ever-growing popularity. Some of the notable stars he has worked with include Angela White, Riley Reid, and Abella Danger, among others. These partnerships have resulted in some truly memorable on-screen moments, which have captivated audiences and further solidified Slayher's position as a top performer.
Jax Slayher has been a part of numerous movies that have made a significant impact on the adult film industry. Some of these films include "Blacked Raw V1," "Racks 3," and "Interracial Icon 7." In addition to these popular titles, Slayher has also been involved in creating highly acclaimed scenes that have garnered him numerous awards and nominations. These scenes showcase not only his remarkable talent but also his dedication to his craft and his unwavering commitment to delivering the best possible performances.
Jax Slayher's hard work and dedication have not gone unnoticed. Over the years, he has been nominated for and won numerous prestigious awards in the adult film industry. Some of these accolades include the 2018 AVN Award for Best Group Sex Scene and the 2019 XRCO Award for Unsung Swordsman. These awards serve as a testament to Slayher's exceptional talent and his ability to continually push the boundaries of adult entertainment.
Hey there, Jax Slayher 10" ULTRASKYN Cock official debut. I'm thrilled to introduce you to the Doc Johnson Signature Cocks - Jax Slayher 10" ULTRASKYN Cock. As an adult Porn star, he is the pleasure of bringing countless fantasies to life. Now, with this premium, realistic replica of manhood, you too can experience the ecstasy of being intimately close to me. Doc Johnson has meticulously crafted this incredible dildo with your pleasure and satisfaction in mind, so dive in and let your imagination run wild.
Product Appearance:
The Jax Slayher 10" ULTRASKYN Cock boasts a beautifully sculpted, lifelike design that captures every intricate detail of my own anatomy. From the pronounced head to the veiny, textured shaft, this dildo offers an incredibly realistic visual and tactile experience. The deep, rich skin tone adds to the authentic appearance, ensuring that every encounter with this toy feels truly intimate and personal.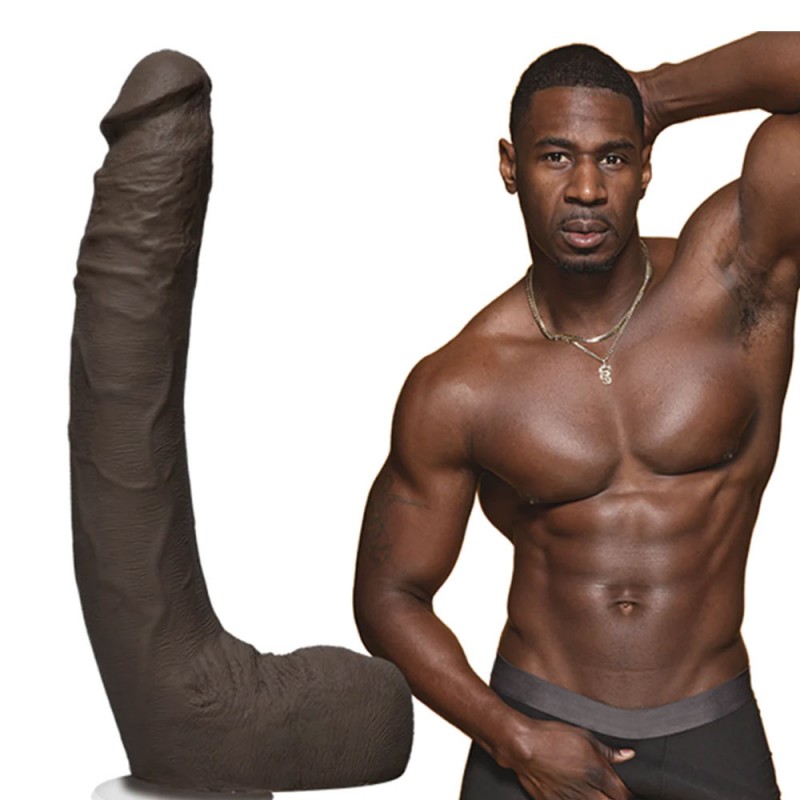 Jax Slayher 10 Inch ULTRASKYN Dildo
OVERVIEW
Handcrafted from ULTRASKYN, for The Ultimate Feel
Molded Directly from Blacked.com Jax Slayher

Textured Veins for Added Stimulation
Size and Dimensions:
Measuring a generous 10 inches in length and featuring a satisfying girth, the Jax Slayher 10" ULTRASKYN Cock is perfect for those who crave a more substantial, filling sensation. The insertable length is approximately 8 inches, providing deep, satisfying penetration. This toy's size and shape are designed to deliver unforgettable pleasure, whether you're using it solo or with a partner.
Material and Construction:
Doc Johnson's patented ULTRASKYN material is what truly sets this dildo apart from the rest. This body-safe, phthalate-free material mimics the softness and suppleness of real skin, providing an unparalleled realistic experience. The dual-density construction features a firm inner core surrounded by a soft, pliable exterior, mimicking the unique feel of an erect penis. This attention to detail and commitment to quality make the Jax Slayher 10" ULTRASKYN Cock a standout addition to any toy collection.
Usage and Versatility:
The Jax Slayher 10" ULTRASKYN Cock is perfect for a wide variety of pleasure pursuits. The strong suction cup base allows for hands-free play, securely attaching to any smooth, flat surface. This feature lets you explore a range of positions and scenarios, limited only by your imagination. Additionally, the suction cup base is compatible with most strap-on harnesses, making this toy ideal for couples looking to spice things up.
Advice for Use:
To ensure the best possible experience with the Jax Slayher 10" ULTRASKYN Cock, always use a generous amount of water-based lubricant. This will enhance the toy's already realistic feel and make for a smoother, more comfortable experience. Avoid silicone-based lubricants, as they can degrade the ULTRASKYN material over time.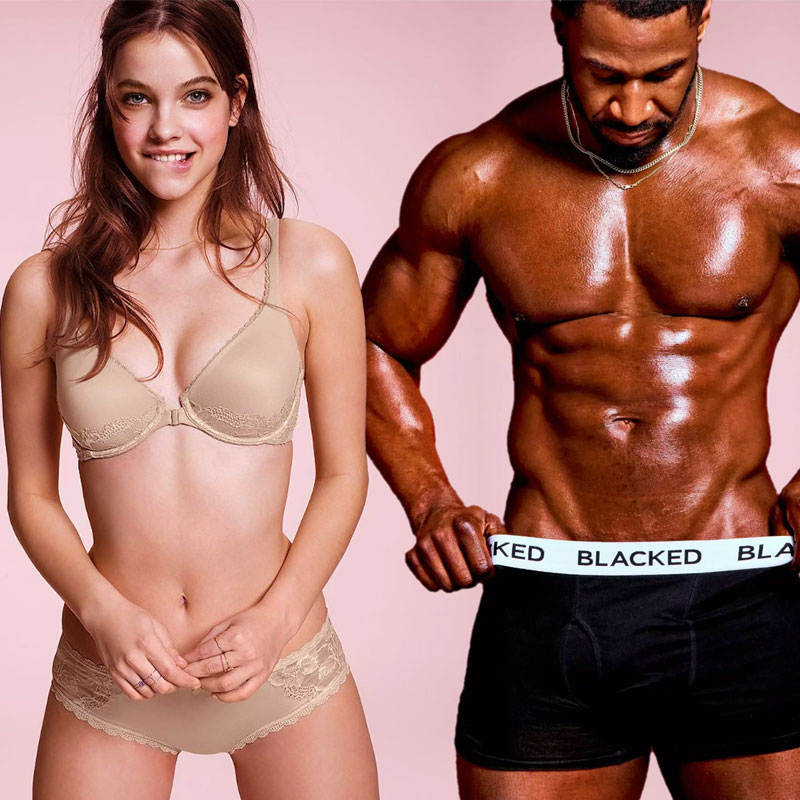 Cleaning and Care:
Maintaining the Jax Slayher 10" ULTRASKYN Cock is simple and hassle-free. After each use, wash the toy with warm water and a gentle, fragrance-free soap or a dedicated toy cleaner. Pat dry with a clean, lint-free cloth and allow it to air dry completely before storing. To extend the life of your ULTRASKYN toy and maintain its soft, skin-like feel, dust it lightly with Doc Johnson's ULTRASKYN Refresh Powder after cleaning.
Conclusion:
Indulge in your wildest fantasies with the Doc Johnson Signature Cocks - Jax Slayher 10" ULTRASKYN Cock. This premium, lifelike dildo offers an unrivaled pleasure experience that will leave you yearning for more. With its stunning realism, luxurious materials, and versatile features, this toy is sure to become a cherished addition to your collection. Don't miss your chance to get up close and personal with me, Jax Slayher, and experience the ultimate in intimate satisfaction.
Testimonials:
"I've always been a fan of Jax Slayher, and this toy brings him right into my bedroom. The size and feel are incredible, and the ULTRASKYN material is unbelievably lifelike. I couldn't be happier with my purchase!" - Satisfied Customer
"The Jax Slayher 10" ULTRASKYN Cock is hands-down the most realistic dildo I've ever experienced. The attention to detail is amazing, and the suction cup base is a game-changer. I love using it in the shower for some extra steamy fun!" - Enthusiastic User
"My partner and I have been experimenting with strap-on play, and the Jax Slayher 10" ULTRASKYN Cock has quickly become our go-to toy. It feels fantastic for both of us, and the realistic appearance adds an extra element of excitement to our playtime." - Adventurous Couple
Safety and Discretion:
Doc Johnson understands the importance of privacy and discretion when it comes to adult toys. The Jax Slayher 10" ULTRASKYN Cock is shipped in discreet, unmarked packaging to ensure that your purchase remains your private pleasure.
Final Thoughts:
Whether you're a longtime fan of Jax Slayher or simply in search of a high-quality,
realistic dildo
, the Doc Johnson Signature Cocks - Jax Slayher 10" ULTRASKYN Cock is an investment in your pleasure that you won't regret. With its lifelike appearance, luxurious materials, and versatile design, this toy offers endless opportunities for exploration and satisfaction. Experience the thrill of intimacy with Jax Slayher and elevate your pleasure to new heights with this exceptional adult toy.
Don't wait any longer to bring the incredible experience of the Jax Slayher 10" ULTRASKYN Cock into your life. Order yours today and embark on a journey of unparalleled pleasure, satisfaction, and fantasy fulfillment.