Discover Sexy Babydoll Dresses: The Ultimate Honeymoon Attire
June 05, 2023 by Winnie.
A honeymoon signifies a beautiful journey that celebrates the magical bond of matrimony. An important element of this journey is the sensual connection between the partners, and the right attire can significantly enhance this aspect. The sexy, delicate, and stylish babydoll dress, an essential piece of lingerie, has the power to add a dash of excitement and sensuality to your intimate moments. Its revealing, yet tastefully designed silhouette, can add a dash of excitement to your intimate moments, making them all the more memorable. The intricate lace detailing, the sheer fabric, and the flirtatious length of the dress work together to create a visual appeal that is hard to resist.
1. Delving into the Allure of the Babydoll Dress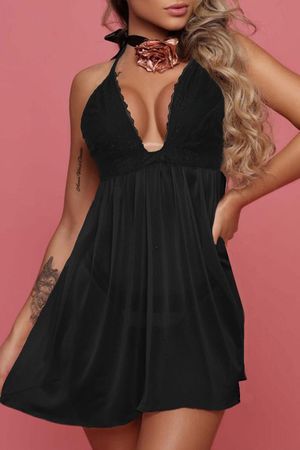 The babydoll dress is one that usually has a low neckline, short sleeves, and a high waist. It comes various colors and styles, depending on the brand. Essentially a short nightgown that exudes a delicate mix of femininity and sensuality.
The beauty of the babydoll dress lies in its simplicity. It usually follows a straightforward design - a fitted bodice that flares out from the bust, creating a flowing, breezy effect. This design, coupled with its short length, usually ending at the thigh, lends a flirtatious and playful appeal to the dress. The result is a silhouette that accentuates the legs, elongating them and adding an enticing touch to the overall look. However, the allure of a babydoll dress isn't confined to its design. It is the choice of fabric and the intricate detailing that truly bring out the character of this dress. Babydoll dresses usually are crafted from luxurious fabrics such as satin, silk, or lace. The choice of these fabrics lends an elegant, yet subtly sexy appeal to the dress.
Delicate decorations accentuate these babydoll dress charm, such as ribbons, ruffles, or bows, either on the bodice or at the hem, lend an element of adorable to the dress, while also enhancing its feminine appeal.
2. Why the Babydoll Dress is a Honeymoon Essential?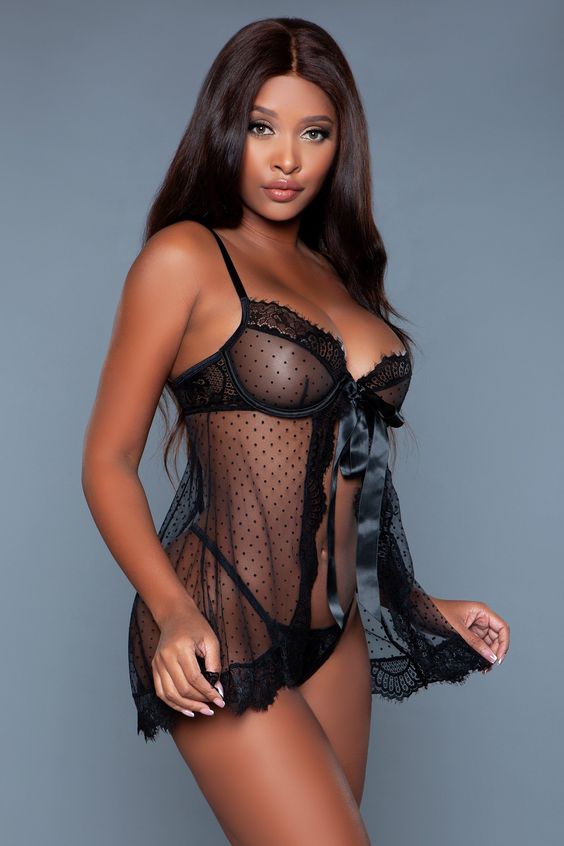 In the realm of intimate wear, the babydoll dress is a frontrunner in its seductive allure. It serves to amplify the existing romantic aura, making you and your partner immerse in the world of love and desire, and heightening the honeymoon experience. It's not merely a piece of lingerie, but a vessel that carries the promise of unforgettable nights and memories that you'll cherish forever.
Babydoll dresses are a versatile garment that can be worn for various occasions. They are perfect for weddings, formal events, or even just lounging around during the day.
What are the reasons you might want to wear one?
Babydoll dresses are slim and flattering on most body types. They also come in many different design shapes and sizes, so they are perfect for everyone. They are great if you want something sexy but comfortable enough to wear all day.
3. How to Choose your perfect babydoll dress?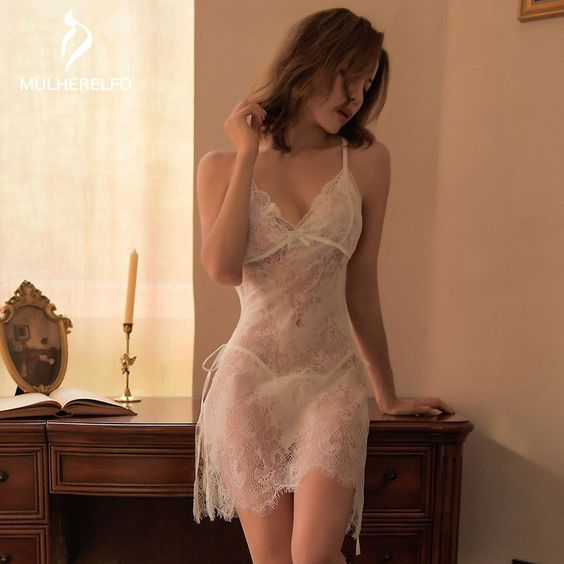 The journey to finding your ideal babydoll dress isn't merely about selecting a piece that looks appealing. It involves understanding your body shape, recognizing your personal style, and ensure your comfort levels. After all, lingerie should not only look good but also make you feel confident, comfortable, and sexy.
Considering your body shape when selecting a babydoll dress. For those with petite figures, a design that features a snug bust and flared bottom can work wonders. This silhouette highlights the bust while the flared bottom adds a touch of playful charm, making it a perfect choice for those who want to emphasize their curves subtly.
For individuals with a curvier figure, an empire waist babydoll dress could be an ideal option. The high waistline of this style, combined with a loose, flowing skirt, accentuates the bust area and beautifully camouflages the mid-section, offering a flattering and elegant look.
Personal style is another crucial factor. Remember, your lingerie is an extension of your personality and should resonate with your fashion sense. Some might lean towards a chic lace ensemble that exudes sophistication and classic elegance. Others might prefer a luxurious satin piece that speaks volumes about their love for all things plush and opulent. From sultry to sweet, there's a babydoll dress to match every style preference.
However, don't overlook the importance of comfort. The right babydoll dress should make you feel as good as you look. Pay attention to the fabric, the fit, and the feel of the dress on your skin. Lingerie is meant to make you feel sexy, confident, and comfortable all at once.
So, finding the perfect babydoll dress involves striking a balance between aesthetic appeal, personal style, and comfort. Once you've managed to find a dress that ticks all these boxes, you'll have found a piece that not only adds to your lingerie collection but also boosts your confidence and enhances your intimate moments.
4. 5 different types of babydoll dresses
The Classic Lace Babydoll Dress:
The classic lace babydoll dress is usually the favorite one for women. Its sheer elegance and timeless charm make it a popular choice for many. The intricate lace can range from plain floral patterns to bold geometric designs, catering to a variety of aesthetic preferences. They feature adjustable spaghetti straps and a low neckline, making them comfortable to wear even in hot weather conditions. Note: Choose a premium lace fabric, otherwise some people with easily sensitive skin will feel tingly and get a rash.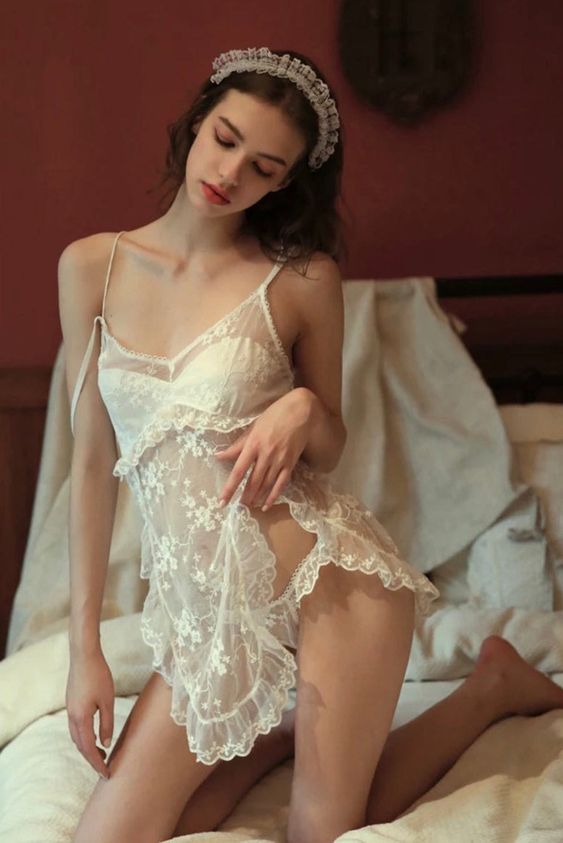 Satin Babydoll Dress:
Satin babydoll dresses are full of sexy and luxurious atmosphere. The smooth and shiny fabric is skin-friendly and delicate, not only enhancing the sensory experience, its soft and comfortable touch can even be worn as pajamas, giving you a charming night and a good night's sleep. Satin babydoll dresses are usually rich and vibrant in color, making them a visually striking choice. You can choose styles with backless designs and the coolness of satin to make you feel cool in the summer.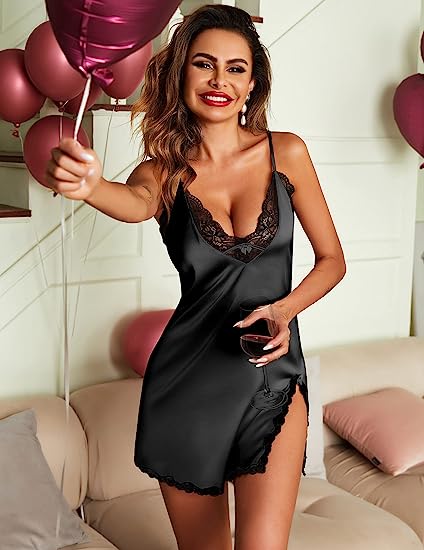 Leather-Look Bodycon Babydoll Dress:
Black leather multiple sizes teddy sexy lingerie top elevates the edgy aesthetic of the bodycon dress to new heights. Striking garment traces the contours of the body to perfectly showcase your curves. The gleaming black leather adds a layer of mystique and appeal, capturing the allure of the classic leather look and ensuring a comfortable fit. Whether you are petite or curvy, this dress offers multiple sizes, promising a tailored fit for every body type.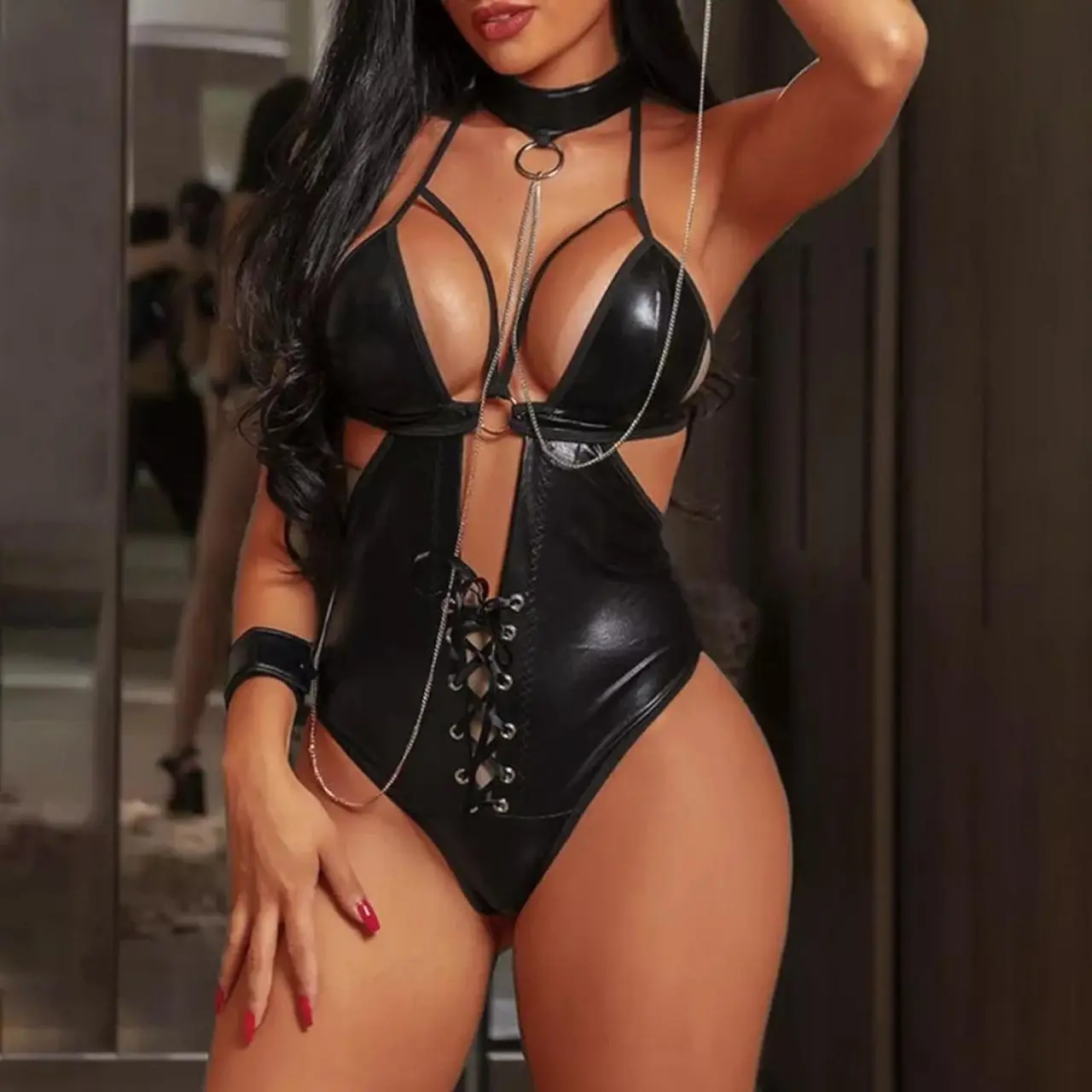 Translucent Sexy Babydoll Dress:
This one is an enchanting piece of lingerie that weaves together a sense of playful innocence with irresistible allure. Its sheer, lightweight material gently caresses the skin, offering a tantalizing glimpse of the body beneath while maintaining an air of mystique. The dress flows loosely from the bust, fluttering with every movement to create a dreamy and romantic silhouette. This type is perfect for a sweet date with your lover at night.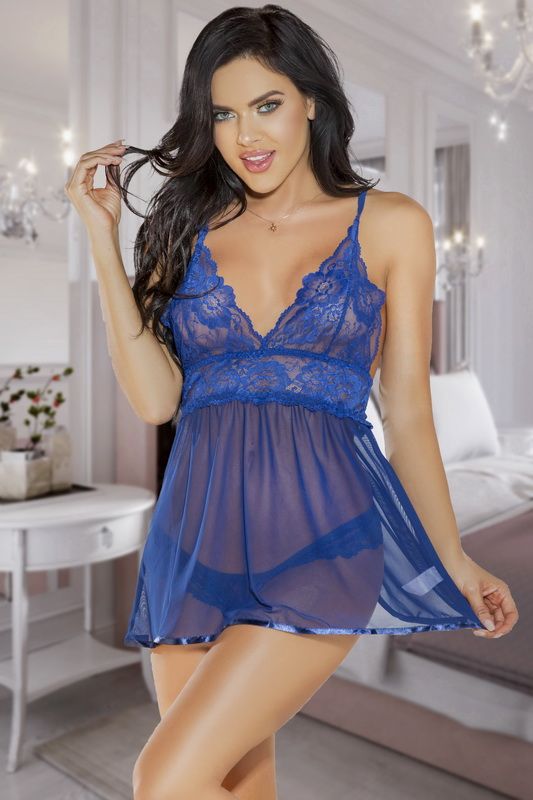 Open-Back Halter Dress:
This particular dress design usually features a striking halter neckline, which gracefully accentuates the shoulders and neck area, adding a playful touch, introducing a level of flirtatious appeal. This type als features a deep V neckline, artfully designed to accentuate your breasts' curves. Despite these provocative details, the dress is meticulously designed to uphold an air of sophistication. It is best to choose a premium fabric so that it does not look cheap. The versatility of this kind of dress means it can be accessorized in numerous ways. Paired with a delicate necklace, the halter neckline becomes even more eye-catching, while elegant heels can further accentuate the open back design.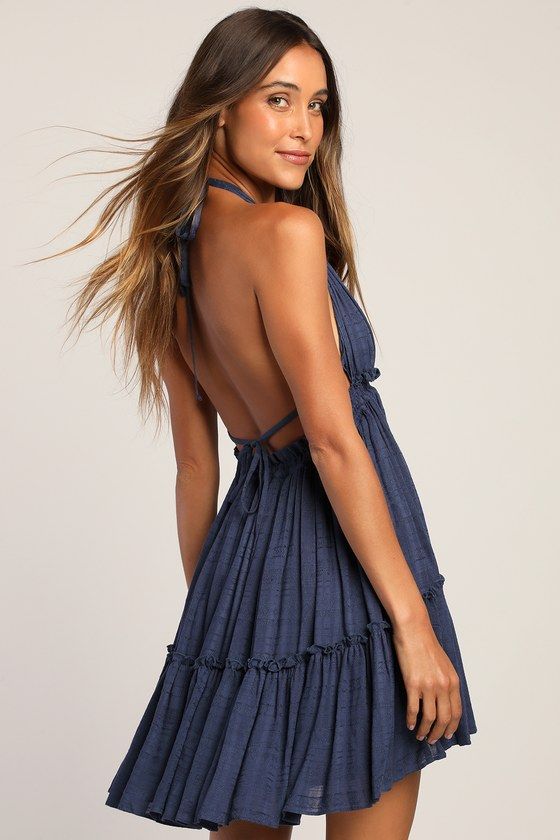 5. The best way to wear the sexy babydoll dress
High Heels: Elevating Your Look
High heels are a staple in any fashion-savvy woman's wardrobe. In the case of sexy babydoll dresses, they serve to elongate the legs, accentuating their shape and adding an extra dose of glamour to the look. Depending on the style and color of your dress, opt for stilettos, platform heels, or strappy sandals. Black or nude heels can usually match any dress color, while metallic or brightly colored heels can make a bold fashion statement. If comfort is a priority, consider satin or velvet ballet slippers, which can complement the feminine allure of the babydoll dress.
Accessories: A Touch of Glamour
While your babydoll dress is the star of the show, accessories can further enhance its appeal. A pair of chandelier earrings or a delicate pendant necklace can draw attention to your neckline, while an eye-catching bracelet or a set of bangles can add a touch of sparkle to your ensemble. Remember that less is often more when it comes to accessories – you want to complement your dress, not overshadow it.
Stockings: A Touch of Vintage Glamour
Stockings offer a seamless blend of practicality and allure. Pair your dress with sheer stockings for a classic, sophisticated look, or opt for fishnet or patterned stockings to add a touch of sass. Stockings with lace or bow details can also accentuate the femininity of the doll dress. If you're feeling particularly daring, garter belts can add a provocative touch to your outfit.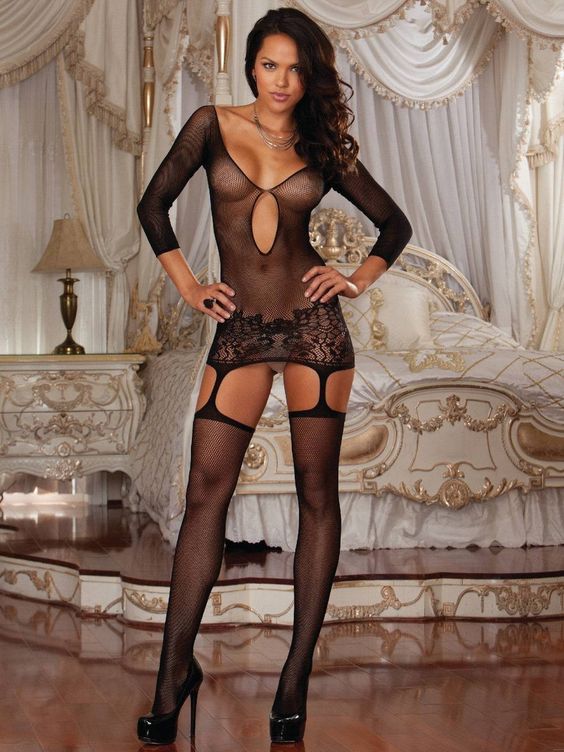 Finally, I think confidence is the ultimate charm. No matter how you choose to style your sexy doll dress, the most important element is your confidence. Wearing something that makes you feel powerful, alluring, and comfortable will naturally radiate through your demeanor. High heels, accessories, and stockings can all work together to enhance the allure of your dress, but ultimately, your confidence is what shines brightest.