8 Best Sex Toys for FUN FACTORY
November 06, 2023 by Lucy.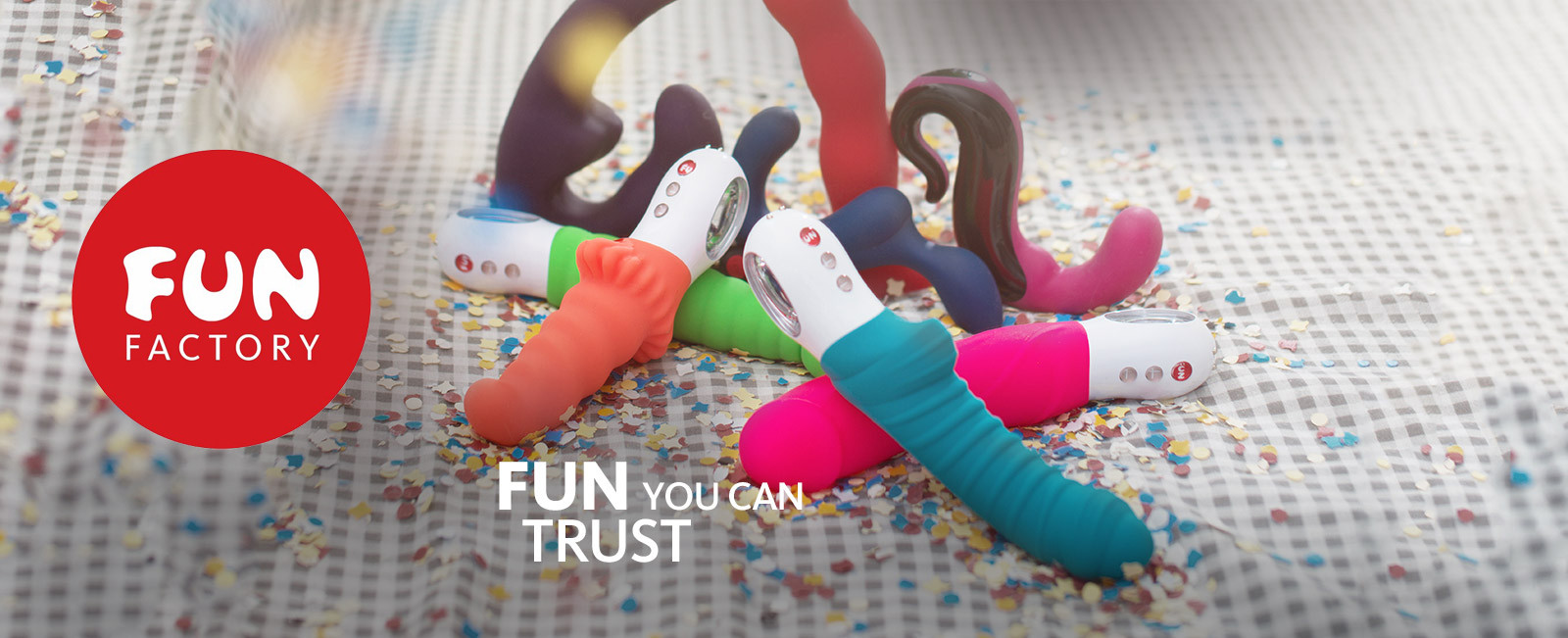 FUN FACTORY is a renowned brand in the world of sex toys, known for its commitment to quality, innovation, and unforgettable pleasure. With an impressive range of products designed to cater to various desires and preferences, FUN FACTORY has become a trusted name among pleasure-seekers. Let's dive into some of their top recommendations and explore the unique sensations they offer.

Ultimate pleasure for prostate stimulation.

Duke Prostate Massager Vibrator

Experience mind-blowing prostate pleasure with the Duke Prostate Massager Vibrator. Crafted with precision and ergonomic design, this toy is perfect for exploring the hidden depths of pleasure. The gentle curve and velvety silicone texture make insertion a breeze, while the powerful vibrations target the prostate with pinpoint accuracy. Prepare for intense sensations that will send shivers down your spine, leading to explosive, full-body orgasms. Let Duke take you on a journey of unparalleled pleasure.

Intense vibrations for clitoral pleasure.

Volta Flutter Tip Clitoral Vibrator

Indulge in tantalizing clitoral stimulation with the Volta Flutter Tip Clitoral Vibrator. This innovative toy features two flexible silicone tips that flutter and flicker against the clitoris, creating a sensation like no other. With its customizable vibration patterns and intensities, the Volta allows you to explore a multitude of pleasure possibilities. Let the waves of pleasure wash over you as the Volta dances and teases your most sensitive areas, leading you to toe-curling orgasms.

Compact and powerful pleasure tool.

Bullet Rechargeable Massage Vibrator

Don't let its compact size fool you; the Bullet Rechargeable Massage Vibrator packs a punch when it comes to pleasure. This versatile toy is perfect for both solo play and couple's adventures. Its sleek design and powerful vibrations provide targeted stimulation to any erogenous zone you desire. Explore your body inch by inch, teasing and pleasing until you reach the peak of pleasure. With its discreet and travel-friendly design, the Bullet is your perfect companion for pleasure on the go.

Unique pulsating sensations for pleasure.

Stronic Petite Mini Pulsator

Prepare for a revolution in pleasure with the Stronic Petite Mini Pulsator. This unique toy doesn't vibrate; it pulsates, mimicking the thrusting motions of penetrative sex. The rhythmic back-and-forth motion of the Stronic Petite creates a sensation that feels incredibly lifelike. Allow yourself to be swept away by the waves of pleasure as this pulsator stimulates your most sensitive areas. Get ready for a hands-free experience that will leave you breathless and craving more.

Dual stimulation for mind-blowing orgasms.

Amorino Rabbit Vibrator

Experience the ultimate combination of internal and external pleasure with the Amorino Rabbit Vibrator. This luxurious toy features a curved shaft for G-spot stimulation, while the flexible external arm teases the clitoris. With its dual motors and customizable vibration patterns, the Amorino offers endless possibilities for pleasure. Surrender to the intense sensations as this rabbit vibrator takes you on a journey to orgasmic bliss. Get ready for mind-blowing pleasure that will leave you craving more.

Next-level pleasure for men.

Cobra Libre II Penis Head Vibrator Male Masturbator

Discover a whole new world of pleasure with the Cobra Libre II Penis Head Vibrator Male Masturbator. Designed specifically for penis stimulation, this innovative toy envelops the head of the penis in pulsating vibrations. The sleek and ergonomic design ensures a comfortable fit, while the powerful motors deliver intense sensations. Indulge in hands-free pleasure as you explore the various vibration patterns and intensities. Get ready for mind-blowing orgasms that will redefine your solo play experience.

Intimate pleasure for couples.

Share Lite Double Dildo for Couples

Enhance your intimate moments with the Share Lite Double Dildo for Couples. Designed to be worn by one partner, this double-ended dildo allows for simultaneous penetration and shared pleasure. The ergonomic shape and flexible silicone material ensure a comfortable fit and effortless exploration. Whether you're looking to spice up your relationship or explore new boundaries, the Share Lite will take you and your partner on a journey of mutual pleasure and connection.

Realistic and satisfying dildo.

Magnum 7" Silicone Dildo

Experience the satisfaction of size with the Magnum 7" Silicone Dildo. This beautifully crafted dildo is designed to deliver intense and fulfilling penetration. The realistic texture and pronounced head provide a lifelike feel, while the strong suction cup base allows for hands-free play. Whether you're craving solo pleasure or want to add a new dimension to your partner play, the Magnum will leave you breathless with its size, texture, and undeniable pleasure.
FUN FACTORY's range of sex toys offers something for everyone, ensuring unforgettable pleasure and satisfaction. From prostate massagers to clitoral vibrators, pulsators to dildos, each product is crafted with care and innovation to provide unique and mind-blowing sensations. Let these toys be your gateway to a world of pleasure and exploration. Elevate your intimate experiences and unlock new levels of satisfaction with FUN FACTORY.