6 Best Jimmyjane Vibrators for Unmatched Sensual Experience
July 21, 2023 by Winnie.
Adding vibration to your solo or partnered sexual experiences can significantly enhance pleasure. Vibrators increase blood circulation to your genital area, amplify nerve stimulation, and invigorate your erogenous zones in ways unimaginable.
Searching for a new plaything but unsure where to source the ideal vibrator to satisfy your requirements? You're in the right place.
We've meticulously selected 6 of our top choices to assist you in discerning the perfect pleasure adult toy.
Whether you're pursuing clitoral excitement, G-spot arousal, or perhaps a blend of both — these selections will undoubtedly set the pleasure waves rolling.
Bewildered by the abundant alternatives at your disposal? Fear not. We're committed to steering you through the unique designs, settings, and special features of each toy. Our comprehensive overview is the only guide you'll need to discover the ideal partner for your intimate needs.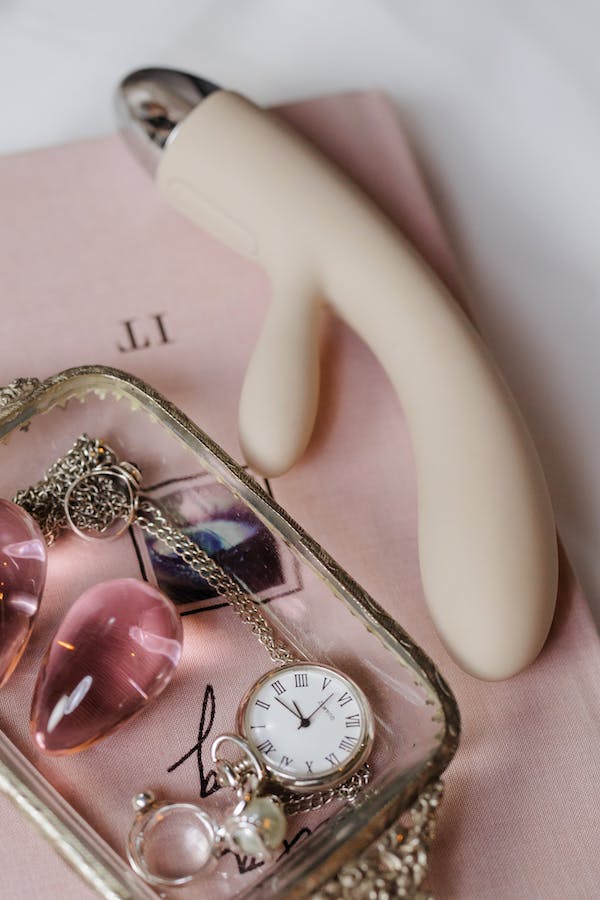 The 6 Best Jimmyjane Ultimate Vibrators
Today let's explore the happy world of Jimmyjane. Immerse yourself in a world where sensual exploration and sophistication unite in perfect harmony. Welcome to the 6 best Jimmyjane Vibrator Series.
Jimmyjane has established a reputation for excellence in the realm of intimate care, and their series of vibrators is no exception. Meticulously crafted with body-safe materials, every vibrator in the series promises a seamless blend of aesthetics, functionality, and ultimate comfort.
The collection boasts a wide variety of innovative designs and features to cater to diverse tastes and preferences. From devices offering pinpoint stimulation to those designed for full coverage, from hands-free experiences to those with warming features, there's a Jimmyjane vibrator for every desire.
Whether you're new to the world of intimate toys or a seasoned user, the Jimmyjane Vibrator Series has something for everyone. Each product in this lineup is not just a tool, but an invitation to embark on a journey of self-discovery and sensuous delight. Get ready to redefine pleasure with Jimmyjane.
1. Jimmyjane Canna Wand Massager
Elevate your sensory experiences with the "Jimmyjane Canna Wand Massager" - the epitome of personal pleasure redefined. This elegantly crafted massager is designed to cater to your unique needs with an allure that matches your personal style.
Canna stands out with its highly versatile design, allowing you to target specific areas with precision or enjoy broader sensations. The biggest highlight of this vibrator is its 3 changeable heads, which can be massaged in a variety of areas and is perfect for individuals and couples to use together. The rounded head is perfectly sculpted for direct stimulation, while its smooth, streamlined body fits comfortably in your hand for easy maneuvering.
FORM 2 Attachment: This innovative head comes with two flexible wings that are capable of delivering deep, rumbling vibrations. It provides a powerful but gentle touch to areas where you need stimulation. The flexible wings can be used to surround sensitive areas and deliver a wide range of sensations. You can apply light pressure for a gentle tickle or press harder for a more intense sensation.
Studded Attachment: The Studded Attachment is covered with numerous small, rounded studs that provide an intense, varied tactile sensation. This attachment is excellent for deep tissue massage or added external stimulation. Apply it directly to tension knots or sensitive spots, and experiment with varying pressure levels to find your ideal comfort zone. The raised studs can also offer unique sensations when used in a circular or back-and-forth motion.
Tongue Attachment: True to its name, the Tongue Attachment emulates the soft, sensual feeling of a tongue. It's great for those who enjoy gentle, lapping sensations. The elongated design allows it to flutter at high speeds, providing a unique sensation that can be especially pleasurable for external stimulation. Try slow, steady strokes or rapid flicks depending on your preference.
Immerse yourself in its variety of rhythmic modes, including 7 modes for a tailored vibration experience. Each vibration is designed to send waves of vibration that reach deep within, unlocking new realms of pleasure.
The Jimmyjane canna wand massager is a testament to elevated pleasure, blending aesthetics, power, and versatility for an unparalleled experience.
2. Jimmyjane Form 2 Gripp Finger Vibrator
Experience a whole new world of intimate pleasure with the Jimmyjane Form 2 Gripp Finger Vibrator. This luxurious, innovative vibrator is ingeniously designed to deliver unparalleled satisfaction.
The Form 2 Gripp is remarkably compact yet extremely powerful. This uniquely shaped design allows you to wear the vibrator like a glove on your fingers, offering precise control and a more personal touch. Its ergonomic design ensures a comfortable grip, allowing you to explore and indulge in your intimate sessions effortlessly.
With dual motors housed in its flexible ears, the Form 2 Gripp delivers an incredibly intense, high-frequency vibration that can be felt right down to your fingertips. The unique shape of the vibe allows the vibrations to be concentrated on a specific area or spread across a wider surface for versatile pleasure. Offering 5 vibration modes and 5 intensity levels, a total of 25 versatile functions. You can fine-tune your experience to match your mood, preference, or situation. Whether you desire a gentle purr or a powerful buzz, Form 2 Gripp has got you covered.
The mini vibe is suitable for travel and perfect for couples to flirt with. It has a built-in travel lock, so you won't have any unexpected surprises.
3. JimmyJane Ascend 3 Rechargeable Vibrator With Remote
Immerse yourself in a world of ecstasy and personal indulgence with the JimmyJane Ascend 3 Rechargeable Vibrator with Remote. Designed to elevate your pleasure to new heights, this luxury vibrator combines exceptional craftsmanship with intuitive controls to offer an unparalleled experience.
Immerse yourself in a world of ecstasy and personal indulgence with the JimmyJane Ascend 3 Rechargeable Vibrator with Remote. Designed to elevate your pleasure to new heights, this luxury vibrator combines exceptional craftsmanship with intuitive controls to offer an unparalleled experience.
Ergonomic Design: The Ascend 3 boasts a unique, flexible pebble-shaped design that allows it to curve and fit snugly to the natural shape of your body. Crafted with your comfort and pleasure in mind, it provides maximum contact for ultimate stimulation.
Dual-ended Vibrations: With powerful motors at both ends, Ascend 3 delivers deep, rumbling vibrations that can be felt throughout the device. Use the smaller end for focused, pinpoint pleasure, or the larger end for broad, all-encompassing stimulation. It comes with 7 pulsation patterns and 3 intensity levels, which you can choose the level you like.
Wireless Remote Control: This luxurious vibrator comes with a wireless remote. The accompanying wireless remote provides convenience, especially during partnered play. It's designed to switch between modes and intensities seamlessly, adding an element of surprise and control.
USB Rechargeable: Bid farewell to the hassle of battery replacements. The Ascend 3 comes with a USB charging cable for easy and efficient charging, providing up to two hours of continuous pleasure on a single charge.
Waterproof and Bath-friendly: The Ascend 3 is 100% waterproof, making it ideal for aquatic adventures. Bring it into the bath or shower for a steamy session that will leave you breathless.
Body-safe Silicone: Made from high-quality, body-safe silicone, the Ascend 3 is not only smooth to the touch but also hypoallergenic, ensuring a safe and comfortable experience every time.
The JimmyJane Ascend 3 Rechargeable Vibrator with Remote offers a tailored approach to pleasure. Revel in its powerful, personalized sensations and embrace the thrilling moments of bliss it brings.
4. Jimmyjane Focus Sonic Clitoral Vibrator
Discover an unparalleled level of pleasure with the Jimmyjane Focus Sonic Clitoral Vibrator. This luxury toy combines sophisticated design, cutting-edge technology, and ultimate comfort, ensuring an unforgettable intimate experience.
The Focus Sonic Clitoral Vibrator transcends traditional stimulation by using high-frequency sonic waves. These waves provide direct clitoral stimulation without making direct contact, a feature that sets it apart from traditional vibrators. The sensation is profound and unique, resembling the gentle flutter of a hummingbird's wings to offer an all-encompassing sensation.
The toy features 4 intensity levels, allowing you to control your journey toward an explosive climax. At its highest setting, the Focus delivers a whopping 31,000 vibrations per minute, a true testament to its power and efficacy.
The clitoral vibe comes equipped with 3 interchangeable silicone heads, including the Caress Tip, Aim Tip, and Embrace Tip. Each providing a distinct sensory experience. Opt for a gentle caress, a focused tickle, or a deep massage - the choice is yours. It's like having three unique toys wrapped into one sleek design.
Caress Tip: The Caress Tip is perfect for those who prefer a softer, more gentle stimulation. It's designed to mimic the feel of fluttering fingertips, providing delicate waves of pleasure across your erogenous zones. Simply attach this head to the Focus Sonic Clitoral Vibrator and let the device caress your sensitive areas at varying intensity levels. It's a great tip to start with if you're new to sonic wave stimulation or if you prefer a more gentle approach.
Aim Tip: The Aim Tip is designed for pinpoint precision. This head focuses the sonic waves into a small area, delivering an intense, concentrated sensation. This is ideal for targeted clitoral stimulation or for focusing on other specific spots. To use it, attach the Aim Tip to the vibrator, apply a little water-based lubricant, and place it exactly where you want to feel the most intense sensations.
Embrace Tip: The Embrace Tip is all about providing a more immersive pleasure experience. This head surrounds the clitoris (or other erogenous zones) with its unique design, sending sonic waves from all angles for a thorough and satisfying stimulation. It's great for those who crave a full sensation and are experiencing in sonic pleasure.
Operating the Focus Sonic Clitoral Vibrator is simple and intuitive. To begin, choose your preferred silicone head and attach it to the device. Then, turn on the device by pressing the power button. You can cycle through the different intensity levels by pressing the same button, finding the perfect intensity for your desires.
For a more pleasurable experience, apply a small amount of water-based lube to the head before use. The Focus is designed for clitoral stimulation but can be used to stimulate other erogenous zones like nipples, the inner thighs, or the perineum. Play around and explore to find what feels best for you.
When finished, simply hold down the power button to turn off the device. Clean it thoroughly with warm water and toy cleaner or mild soap. The clit vibrator also comes with a convenient storage bag, making it an ideal travel companion for those passionate getaways.
The Jimmyjane Glo Rabbit Vibe is a sophisticated dual-stimulator designed for women who desire a more intimate and luxurious pleasure experience. This unique toy blends function and elegance, offering versatile ways to enjoy erotic play. Engineered for intense dual stimulation, this masterpiece entices with its signature rabbit-style design and advanced heating technology.
The Glo Rabbit Vibe operates with two powerful motors, one in the shaft and one in the rabbit ear attachment, providing simultaneous internal and external stimulation. The curved shaft is designed to target your G-spot with precision, while the flexible rabbit ear extension envelops your clitoris in toe-curling vibrations. Both motors offer a range of vibration modes and intensity levels, allowing you to personalize your pleasure journey.
A standout feature of the Glo Rabbit Vibe is its heating function. This thermal regulator warms the device up to a comfortable body temperature, providing a naturally erotic sensation that enhances your pleasure.
Crafted from premium, body-safe silicone, the Glo Rabbit Vibe boasts a velvety smooth surface that provides comfort while ensuring optimum contact with your body's contours. The ergonomic design features a curved shaft for precise G-spot stimulation and a flexible rabbit ear extension to lavish your clitoris with tantalizing vibrations.
Jimmyjane Glo Rabbit Vibe is the perfect balance of function and fantasy. Its luxurious design, warming sensations, and powerful vibrations make it a must-have for any pleasure seeker looking for an immersive and personal sensory experience.
6. Jimmyjane Reflexx Rabbit 3 Vibrator
Immerse yourself in a world of unrivaled pleasure with the Jimmyjane Reflexx Rabbit 3 Vibrator. This revolutionary device takes personal stimulation to an entirely new level, offering a blend of modern technology and elegant design that you'll love.
Crafted for the modern woman, the Reflexx Rabbit 3 Vibrator is a luxurious dual stimulator that beautifully merges form and functionality. Featuring two powerful motors that drive the device's rhythmic patterns, this rabbit vibrator stimulates your G-spot and clitoris simultaneously, resulting in an explosion of intense pleasure.
Experience the magic of its dynamic vibrations, offering a variety of patterns and intensity levels, including 10 high-performing vibration modes, perfect for tailoring your personal pleasure journey. Whether you prefer gentle waves or powerful pulses, this device has got you covered. These can be easily switched and controlled using the intuitive buttons on the handle of the device, enabling you to explore and discover the perfect combination that suits your preference.
Unique to this device is its flexible shaft. Unlike traditional vibrators, the shaft of the Reflexx Rabbit 3 can flex and adapt to the unique contours of your body, ensuring every inch of you is indulged in sensational pleasure. For the best experience, it's recommended to use a generous amount of water-based lubricant.
Operating this elegant device is quite simple. To switch it on, simply hold down the power button for a few seconds. You can then use the same button to cycle through the vibration patterns. Adjust the intensity of the vibrations using the '+' and '-' buttons. After use, hold down the power button again to switch off the device.
Get ready to explore new realms of sensual delight with the Jimmyjane Reflexx Rabbit 3 Vibrator. It's powerful dual stimulation and body-adapting design will certainly take your erotic encounters to new heights. Experience the ultimate luxury in intimate pleasure!
Experience a world where pleasure has no bounds with the Jimmyjane Vibrator Series. Each product in this line is meticulously crafted to cater to your intimate desires. With the revolutionary designs of our vibrators and massagers, we prioritize your satisfaction and strive to transform your personal pleasure experience.
Whether you're a novice or an experienced user, the Jimmyjane sex toys ensure a journey of exploration and pleasure. We believe that self-love is a form of self-care, and the Jimmyjane vibrator is designed to help you honor and explore your sexuality in a safe and enjoyable way. So why wait? Embark on your journey of self-discovery and pleasure with Jimmyjane and immerse yourself in the world of elevated sensuality and satisfaction.