Unleash Your Desires: The Top 6 Best-Selling Dildos for Pleasure Seekers
November 20, 2023 by Lucy.
Introduction:
When it comes to exploring and enhancing pleasure, dildos have become a firm favorite among sex toy enthusiasts. These versatile and satisfying toys offer a range of benefits, from providing intense stimulation to allowing individuals to indulge in their wildest fantasies. In this blog, we will uncover the allure of the six best-selling dildos available in online stores. Each of these carefully selected pleasure tools offers unique features that cater to diverse preferences. Join us as we explore why dildos are a go-to choice for pleasure seekers, delve into tantalizing fantasy scenarios for each dildo, provide essential maintenance and storage tips, and ultimately understand why these dildos have captured the hearts (and desires) of many.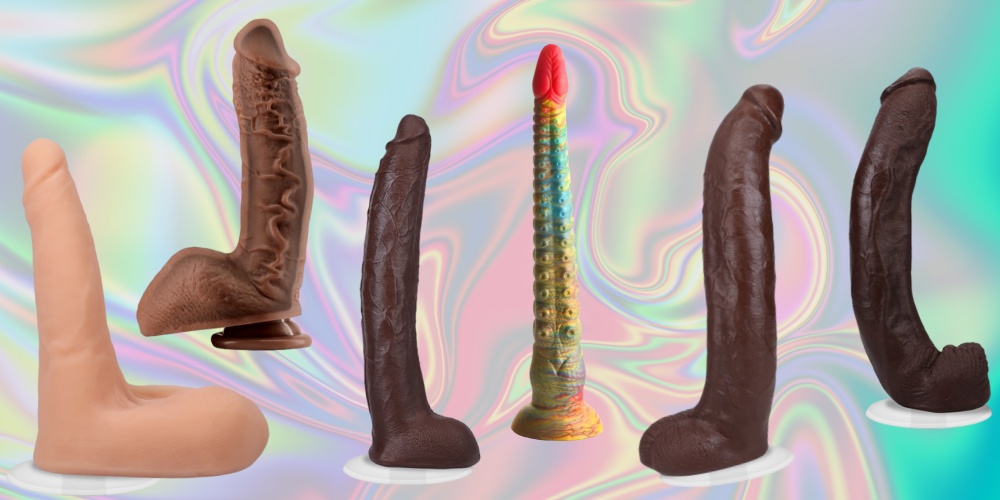 Why Dildos Are People's Favorite Sex Toys:
Dildos have earned their popularity for several compelling reasons. Firstly, they offer versatility in fulfilling a wide range of desires. Whether you're looking for internal or external stimulation, dildos provide an array of sizes, shapes, and textures to suit individual preferences. Additionally, dildos allow users to explore and understand their bodies better, promoting self-discovery and sexual empowerment. Furthermore, dildos can be enjoyed by individuals and couples alike, making them an inclusive option for all types of relationships. Lastly, dildos provide a safe and convenient way to experience pleasure without relying on a partner, allowing for personal exploration and self-indulgence.
Fantasy Scenarios with Best-Selling Dildos:
1.Doc Johnson Signature Cocks Damion Dayski Dildo:
Transport yourself to a world of passion and intimacy as you embrace the Doc Johnson Signature Cocks Damion Dayski Dildo. Picture an enchanting evening where this lifelike dildo becomes the embodiment of your deepest desires. With its realistic feel TPE and realistic design, every touch and thrust takes you closer to a realm of pleasure you never knew existed.
2.Doc Johnson Signature Cocks Dredd Dildo:
In the realm of fantasy, let the Doc Johnson Signature Cocks Dredd Dildo take center stage. Imagine a passionate encounter with this mighty toy as it fulfills your every longing. Its impressive length and girth provide an intense and fulfilling experience, leaving you breathless and craving more. Surrender to the power of Dredd and let your fantasies come to life.
3.Doc Johnson Signature Cocks Brickzilla Dildo:
Unleash your imagination and delve into uncharted territories with the Doc Johnson Signature Cocks Brickzilla Dildo. This massive, fantasy-inspired toy pushes the boundaries of pleasure. Envision a moment where its imposing presence becomes the catalyst for an unforgettable experience. Its lifelike texture and intricate details make every encounter with Brickzilla an adventure worth exploring.
4.Doc Johnson Signature Cocks Lucas Frost Dildo:
Indulge in the ultimate fantasy with the Doc Johnson Signature Cocks Lucas Frost Dildo. Let your desires intertwine with this lifelike creation, as its velvety-smooth texture and enticing curves ignite your passion. Envision a steamy encounter with Lucas Frost himself, as this remarkable dildo becomes a conduit for pleasure unlike anything you've experienced before.
5.Shane Diesel Dual Density 10 in Dildo:
Embark on a journey of pleasure with the Shane Diesel Dual Density 10 in Dildo. Close your eyes and let your imagination run wild as you explore the realistic feel and impressive size of this pleasure tool. Imagine a moment where this lifelike dildo becomes the embodiment of your deepest cravings, providing satisfaction and fulfillment beyond your wildest dreams.
6.XR Brands Tenta-Dick Tentacle Silicone Dildo:
Embrace your wild side and surrender to the XR Brands Tenta-Dick Tentacle Silicone Dildo. Let your fantasies take an otherworldly twist as you explore the whimsical pleasure provided by this unique toy. Picture yourself in a mythical realm, indulging in sensations that awaken your desires. With its imaginative design and silicone texture, the Tenta-Dick opens a gateway to pleasure like no other.
Dildo Maintenance and Storage Tips:
To ensure your favorite dildos last and continue to provide pleasure, proper maintenance and storage are crucial. After each use, clean your dildos with warm water and mild soap or a specially formulated toy cleaner. Thoroughly dry them before storing in a cool, dry place to prevent moisture buildup and potential damage. To protect the surface and maintain their quality, store each dildo separately in a soft cloth or dedicated storage pouch. Avoid exposure to extreme temperatures or direct sunlight, as these can degrade the materials over time.
In Summary:
The popularity of dildos stems from their versatility, ability to promote self-discovery, and inclusive nature. The six best-selling dildos mentioned above cater to various desires, allowing individuals to explore their fantasies and experience intense pleasure. Whether it's the lifelike realism of the Doc Johnson Signature Cocks collection, the impressive size of the Shane Diesel Dual Density10 in Dildo, or the whimsical charm of the XR Brands Tenta-Dick Tentacle Silicone Dildo, these pleasure tools have captured the hearts of pleasure seekers. With their enticing features, lifelike textures, and imaginative designs, these dildos offer an invitation to indulge in unforgettable moments of pleasure. So, embrace your desires, unleash your fantasies, and let these best-selling dildos become your gateway to
a world of pleasure and satisfaction
.