The Features and Disadvantages of Some Popular Dildo Toys
March 24, 2023 by Mency.
If you're looking to give dildo toys a try, this article comes at just the right time. There are so many types of dildo toys on the adult market that it can be overwhelming, and beginners can get enough inspiration from some popular toys if you want to add some fun to your sex experience. This article selects some popular products for comparison in terms of brand, type, material and function, and size.
There are some excellent adult toy brands on the market, among which the excellent brands of dildo toys are Doc Johnson and Pipedream, the popular types of dildo toys are realistic dildos, squirting dildos, double-ended dildos, and vibrating dildos.
Recommend:
Realistic dildo---Doc Johnson The D Firmskyn Thin D 7 Inch Dildo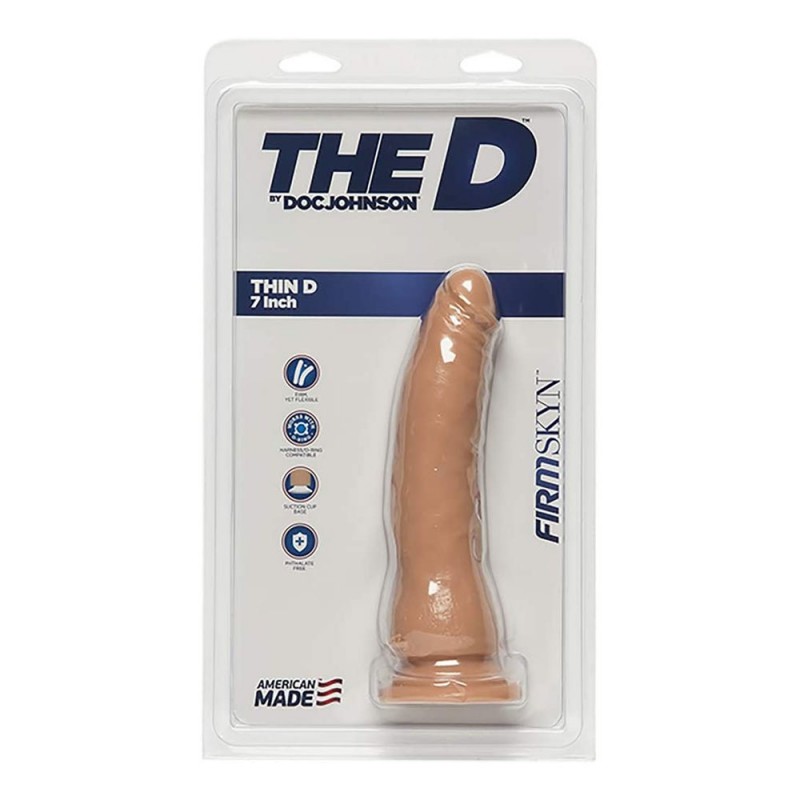 Pros:
1. FIRMSKYN material provides greater intensity and a lifelike feel.
2. Slim shaft design with a tapered tip for easy insertion, perfect for beginners.
3. Textured veins for added stimulation.
4. O-ring harness compatible with couple-friendly sessions.
5. Sturdy suction cup base allows hands-free play on hard, flat surfaces.
6. Made from phthalate-free, body-safe PVC.
7. Proudly made in America.
Cons:
1. Requires thorough cleaning with antibacterial soap and warm water, as well as air-drying and refreshing with Renew.
2. Compatible only with water-based lubricants.
Conclusion: The 7 inch size of this Doc Johnson The D Firmskyn Thin D Dildo is just right, it is very suitable for some people who are trying dildo toys for the first time, and its material is very friendly to those who are allergic to silicone, secondly, it is very cost-effective, and it can be used repeatedly many times if it is stored properly. Its base suction cup also adds some fun, you can use it on any wall in the shower, we recommend applying some lubricant before use to guarantee your pleasure.
Squirting dildo---Doc Johnson Squirting Realistic Cock Dildo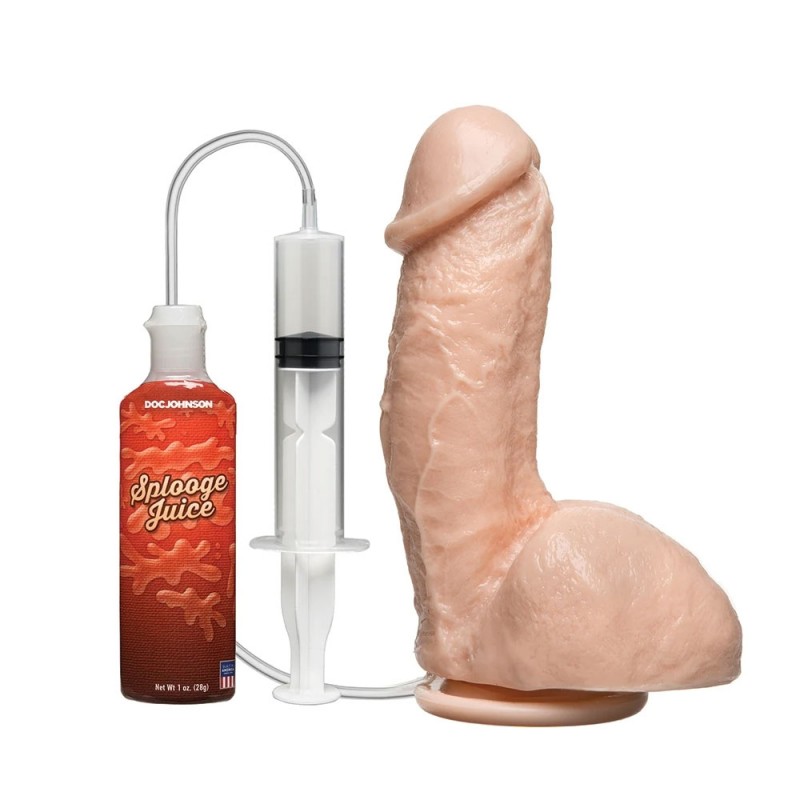 Pros:
1. FIRMSKYN material provides greater intensity and a lifelike feel.
2. Handheld syringe allows for squirting on command.
3. Textured veins for added stimulation.
4. Suction cup base enables hands-free play.
5. Includes a bag for discreet travel and storage.
6. Made from phthalate-free, body-safe materials.
7. Proudly made in America.
Cons:
1. Requires thorough cleaning after use, especially due to the squirting feature.
2. May be too small for users who prefer larger toys (6.8 inches total length, 5.25 inches insertable length).
3. The squirting mechanism may require some practice for optimal use.
Conclusion: This is also a very suitable dildo toy for novices who don't want to start playing with a large size. Its most accurate feature is that it can simulate the experience of ejaculation, so that you can feel a very realistic feeling when playing by yourself, and manual control of ejaculation can fully meet your preferences. The juice contained in the product is hygienic and portable, but please remember to clean it carefully after use. If you want a larger size dildo, we recommend the same brand product Doc Johnson Bust It Squirting Realistic Cock Dildo.
Double-ended dildo---Stainless Steel Metal Double Ended Dildo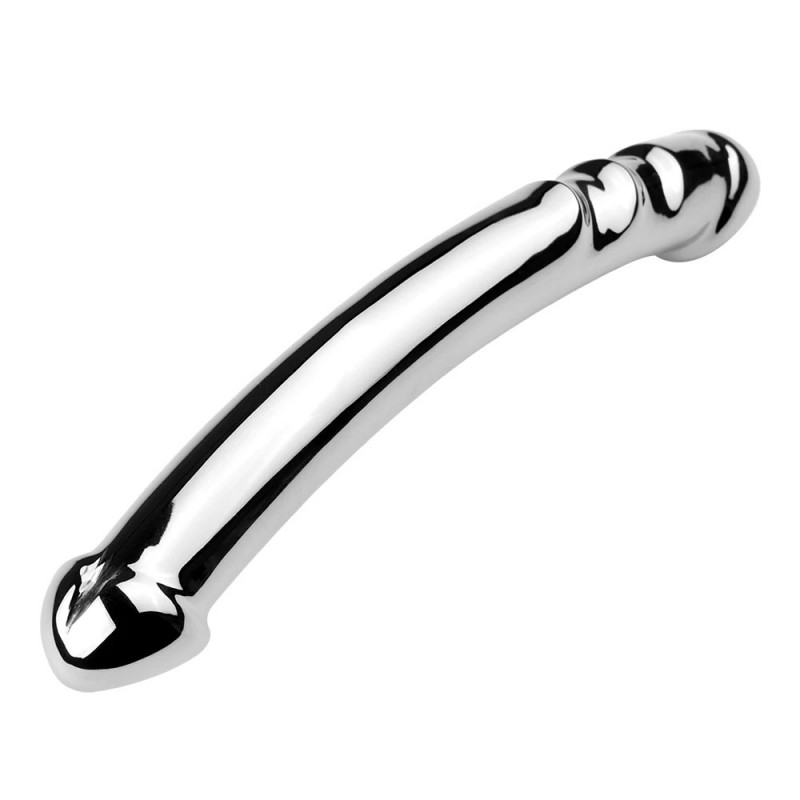 Pros:
1. Elegant dual-ended design offers versatility for vaginal and anal play.
2. Smooth curves enhance pleasure and follow the natural contours of the body.
3. Compact size allows for easy storage and travel.
4. Hygienic and easy to clean due to the non-porous, body-safe stainless steel construction.
5. Durable and long-lasting material.
6. Works well with lubricants for an effortless glide.
Cons:
1. Some users may find the dildo's small size (9.5cm or 3.74in) less satisfying than larger alternatives.
2. The metal construction may feel cold or uncomfortable to some users, especially upon initial contact.
Conclusion: For those who are picky about toy materials, this toy is the best choice. Its stainless steel material determines its advantages of high hardness, durability, safety, and easy cleaning. In addition, its dual-head design can meet your needs for G-spot and prostate stimulation at the same time. If you want a warm gaming experience, you can also put it in hot water ahead of time to meet expectations. Its size is small, suitable for beginners who use a double-ended dildo for the first time, if you want a larger size double-ended dildo toy, we recommend Double Ended Silicone Dildo 16.53 Inch U Shaped Venusfun, which is bendable, realistic, larger, and more elastic, suitable for experienced players.
Vibrating dildo---Pipedream King Cock 9 Inch Vibrating Dildo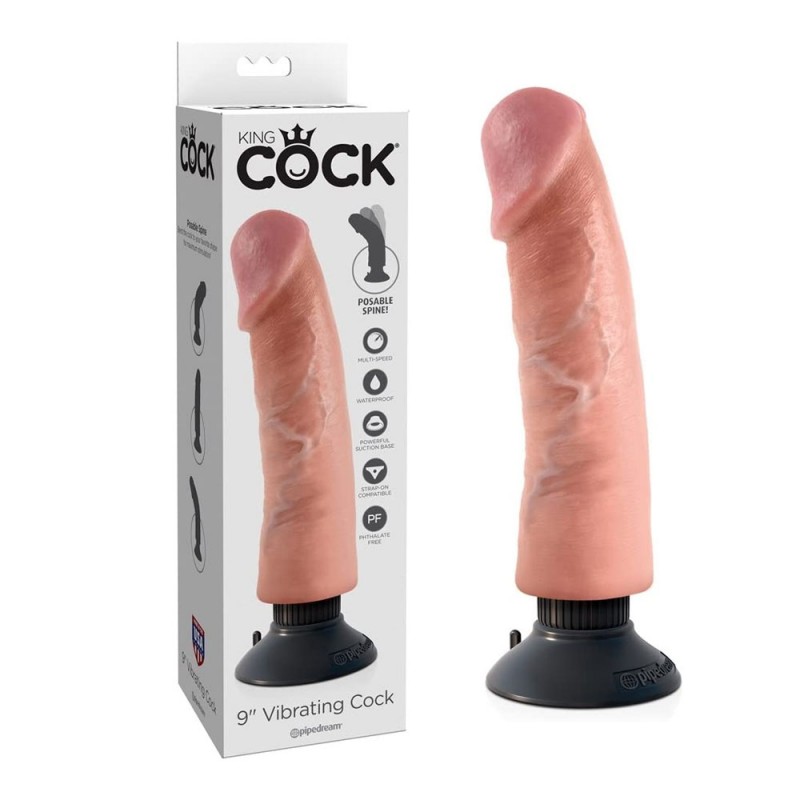 Pros:
1. Realistic design with hand-modeled veins and details for a lifelike experience.
2. Bendable and adjustable to accommodate various positions and maintain comfort.
3. Vibrating feature provides strong stimulation.
4. Super strong detachable suction cup base allows for attachment to almost any flat surface and prevents slipping.
5. Suitable for use in wet environments, such as the bathroom.
6. Made from luxurious Velvet-Touch Silicone and ABS materials.
Cons:
1. The 9-inch length and 2.1-inch width may be too large for some users.
2. The vibrating feature may require batteries, which could need frequent replacement (depending on usage).
Conclusion: This vibrating dildo is prepared for challenging beginners. Its size is large, and its base suction cup can be firmly attached to smooth surfaces to add extra fun. Its simulated surface texture is so clear that you can even see blood vessels and feel raised veins. It can adjust the bending shape to meet all your movement needs. If you want to try larger dildo toys and like the vibration function, this will be a perfect choice, just give it a try!
In general, when choosing toys, we need to combine our own needs with the features and price of toys to buy the most suitable products for ourselves. For more details on how to choose dildo toys, please refer to another blog of Venusfun---How to choose your perfect dildo in Venusfun. Finally, best wishes to you all have a good time every night!