Experience Pure Pleasure: Luxury Liquid Silicone Wand Massager
August 17, 2023 by Selina.
Are you in search of the ultimate tool for personal pleasure and relaxation? Look no further! The Luxury Liquid Silicone Wand Massager with Heating Mode is the latest innovation in the world of wellness, designed to meet your unique needs and preferences. This cutting-edge massager is not only an epitome of comfort but a technological marvel.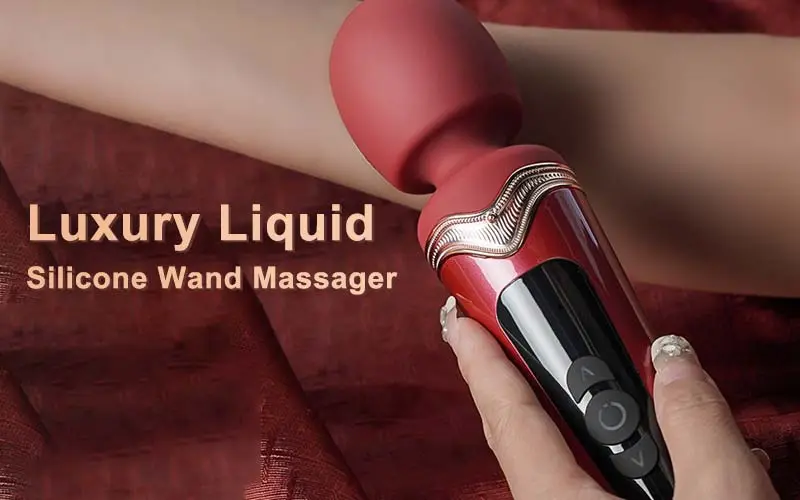 1. 9 Vibration Modes & 9 Speeds - Find Your Rhythm
Whether you crave a gentle caress or a more invigorating experience, this body massager offers 9 vibration modes and 9 adjustable speeds to cater to your individual preferences. The variety ensures that every session with this wand is a unique and unforgettable experience.
2. Double-Layer Liquid Silicone & 360°Flexible Head - Unparalleled Comfort
The double-layer liquid silicone provides a soft and delicate touch, and the 360° flexible head ensures that the massager adapts to your body's unique curves. Experience comfort like never before, with precise stimulation that reaches every angle.
3. Intelligent Heating - A Warm Embrace
The massager's intelligent heating function simulates real body temperature, adding a warm and inviting sensation to your massage. It's not just a massager; it's an embrace that enhances pleasure and relaxation.
4. Digital Display Function - Precise Control
The digital display function lets you control the frequency levels with precision. You are in command, tailoring your experience to the exact sensation you desire.
5. Noise Reduction Technology - Silence is Golden
Enjoy your personal time without any distractions, thanks to the state-of-the-art noise reduction technology. Immerse yourself in the moment, free from any disturbances.
6. Magnetic Charging & Storage Box - Convenience Redefined
Charging and storing your massager has never been easier. The magnetic charging box offers a sleek design and functionality, ensuring that tangled cords and lost chargers are a thing of the past.
7. Waterproof & Travel-Friendly - Your Companion on the Go
Designed to be discreet and portable, this waterproof massager makes the ideal travel companion. Relaxation and pleasure are now available wherever you go.
Conclusion
The Luxury Liquid Silicone Wand Massager with Heating Mode is not just a product; it's an experience that promises to redefine pleasure and relaxation. Get yours today and embrace the future of personal wellness. Experience the luxury, and let this massager take you to a whole new world of comfort, joy, and well-being.
Order now, and don't miss out on this innovative masterpiece!