Introduction
Experience a fusion of pleasure, aesthetic charm, and a hint of delightful pain with Master Series Daggers Double Chain Nipple Clamps. These carefully crafted adult toy of the nipple clamps are more than a kinky accessory; they are an artistic statement that provides a tantalizing twist to a time-honored toy.
Constructed with a unique double chain design adorned with metal spikes, these clamps not only grip the sensitive nipples firmly but also exude a bold and beautiful appearance. The rubber tips are thoughtfully included to safeguard the delicate skin while offering an unforgettably pleasurable sensation. Adjusting pressure is simple, thanks to the easy-to-use screw mechanism. And worry not about allergens; all metal used is nickel-free.
To use, gently grab the nipple and place the clamp along the areola. As you clamp down, gradually adjust the pressure with the screw. Each intentional movement offers a varying sensation, blending pleasure and pain. Beginners should keep the bondage toy of clamps on for no more than 30 minutes at first. Upon removal, remember to proceed with caution; the sensation can be intensely pleasurable! After enjoyment, simply cleanse them with toy cleaner and allow them to dry.
Features
• Spiked Chain: Adds aesthetic look, allows gentle tugs
• Adjustable Clamps: Screw adjusts for perfect pressure
• Rubber Coated Tips: Protects sensitive nipple skin
• Nickel-Free Metal: Suitable for sensitive bodies
• Pleasure and Pain: Combines sensation for unique experience
Parameter
Materials:
Iron, ABS Plastic, PVC
Overall Length:
15 in / 38.1 cm
Widest Opening of Clamps:
0.5 in / 1.27 cm
Standard Configuration
1x Master Series Daggers Double Chain Nipple Clamps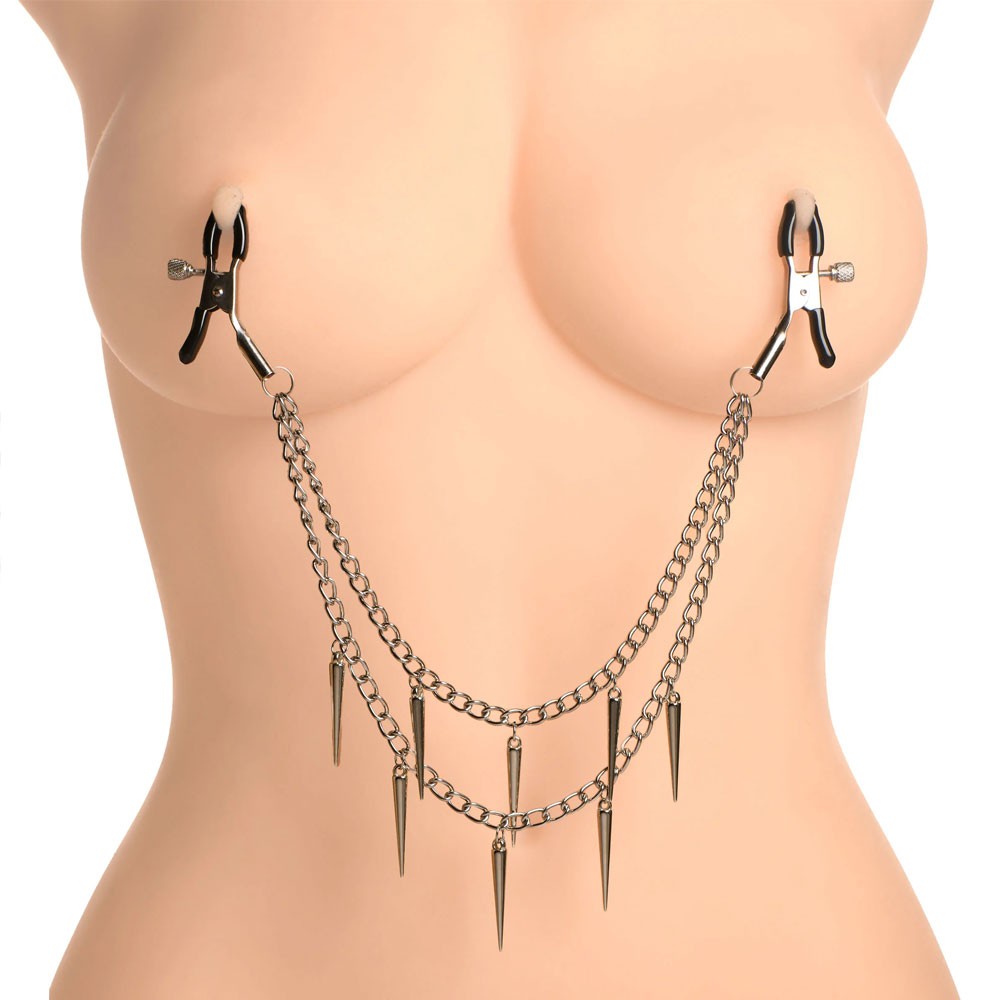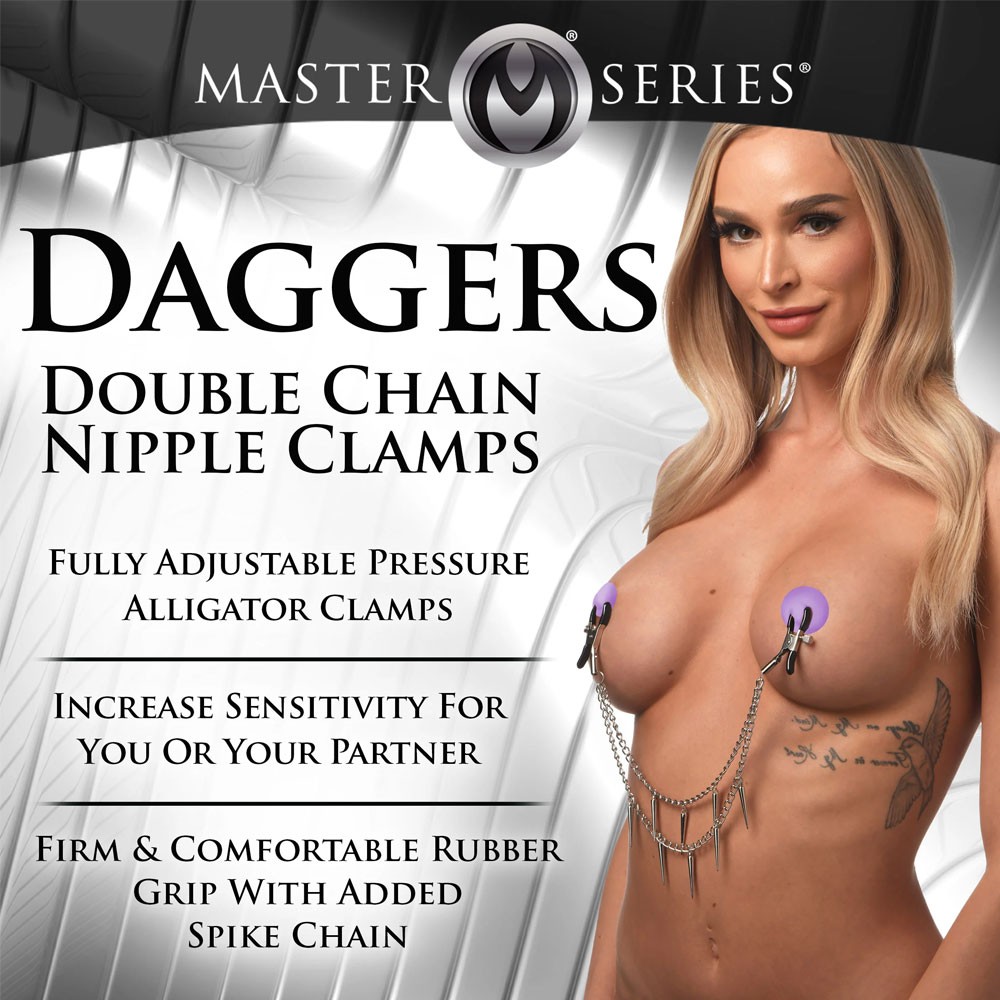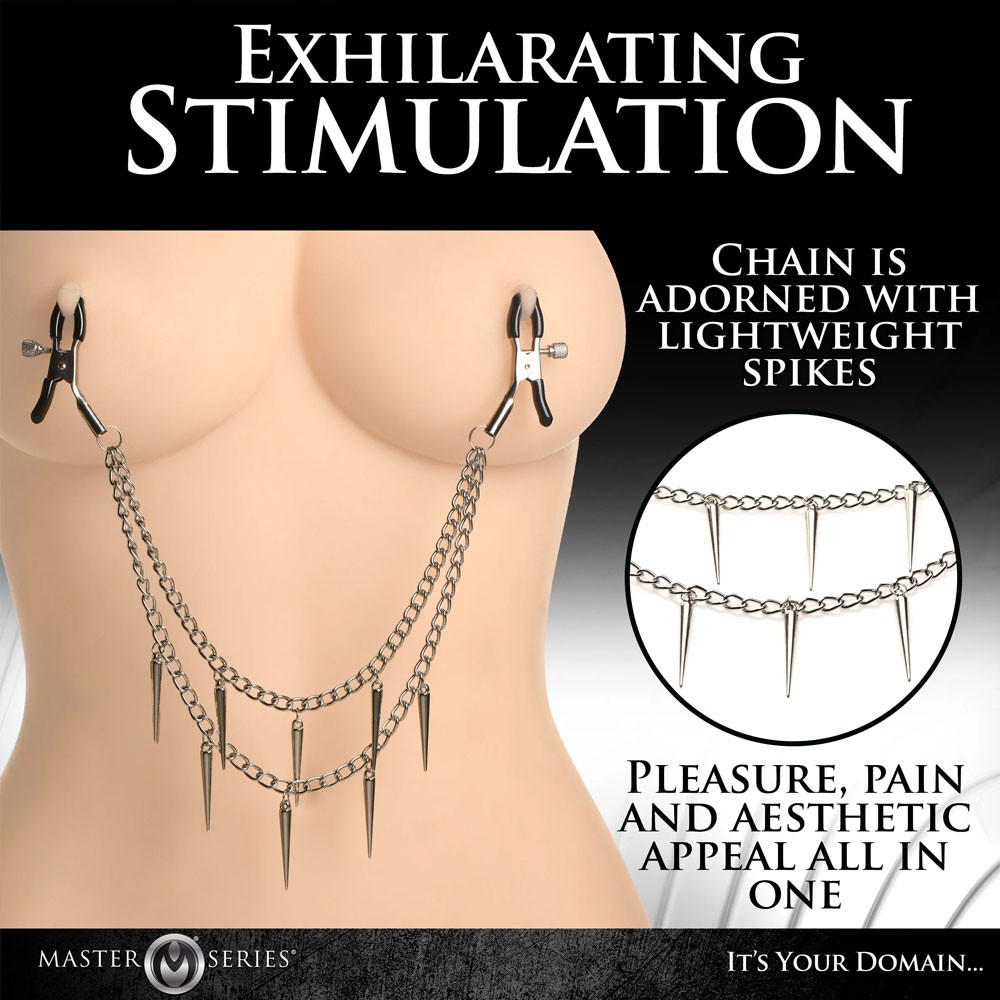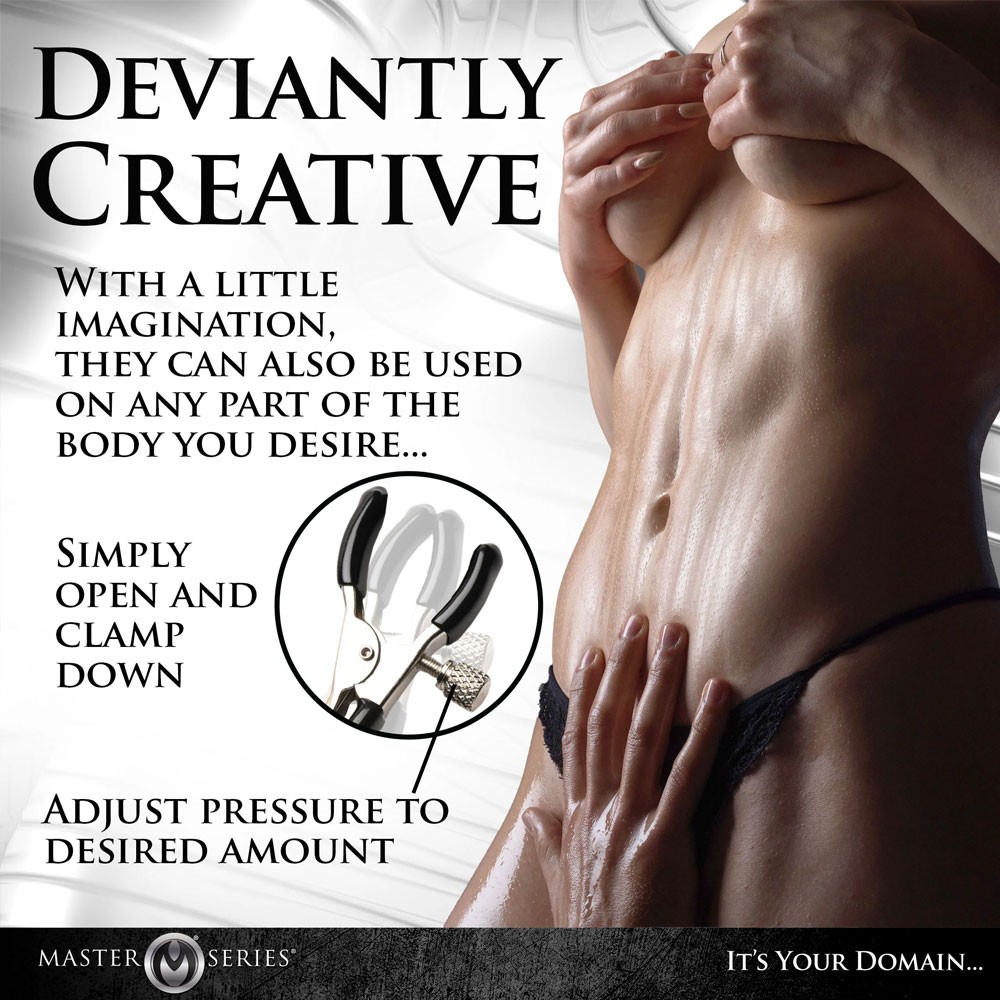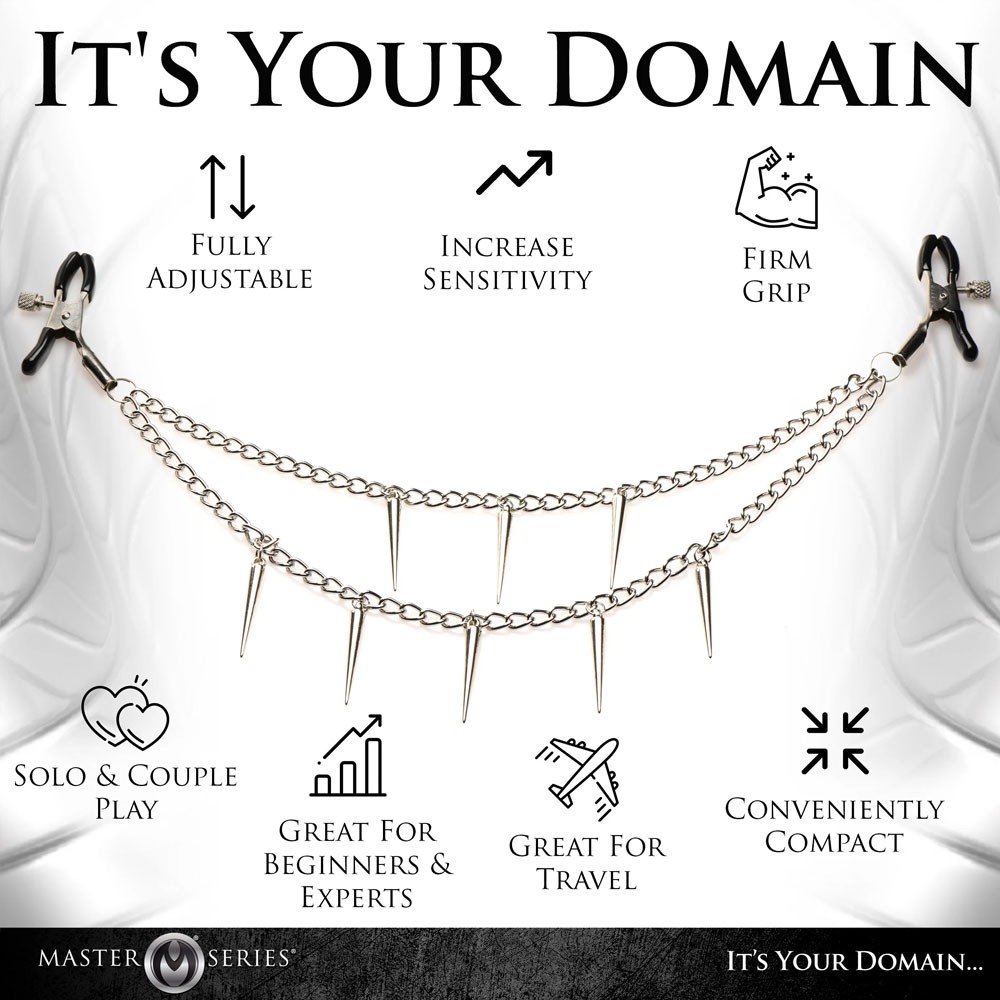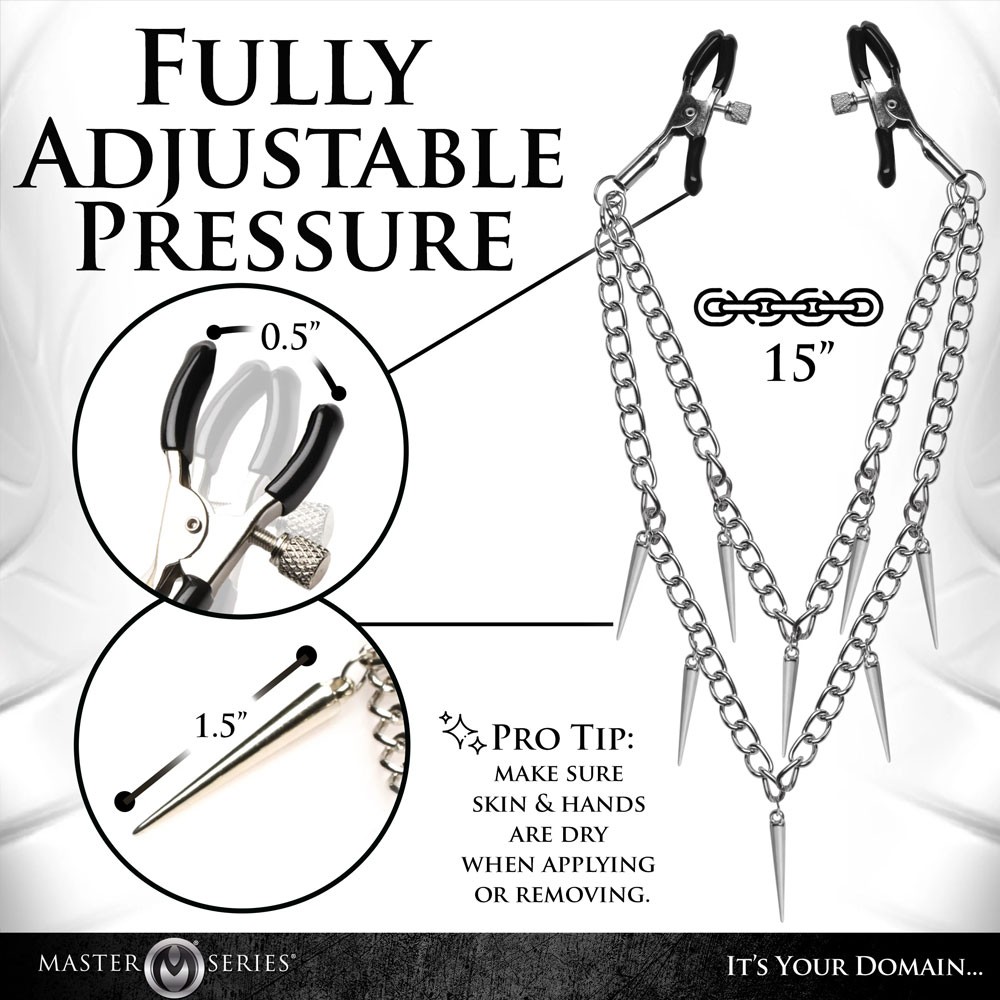 GUARANTEE
1 Year Product Guarantee. If DOA(Dead On Arrival), please contact us within 72 hours of delivery.