Introduction
Experience new dimensions of self-pleasure with the Fleshlight Ice Lady. This unique male masturbator, constructed from patented SuperSkin material, offers unparalleled sensations that mimic the feel of real intimacy. Its crystal-clear casing adds an exclusive visual element to your experience, allowing for a unique perspective not found in other products on the market.
From the moment you hold the Fleshlight Ice Lady in your hand, you'll appreciate the thoughtful design that blends aesthetics with functionality. The sleek, hard-shell exterior is shaped for a comfortable grip, ensuring your experience is as effortless as it is thrilling. The clear material not only reveals the internal texture but also offers a view of the action, adding a new level of visual stimulation to your experience.
Inside, the Fleshlight Ice Lady is a marvel of engineering. The sleeve, made from SuperSkin material, is incredibly lifelike, soft, and durable. It's designed to withstand rigorous use while providing the same level of comfort and pleasure as the real thing. The internal canal boasts a complex array of textures and chambers, each designed to offer unique sensations. From the enticing entry point to the varied textures within, every inch is designed for maximum pleasure.
The Ice Lady is more than just a masturbator; it's a versatile tool for enhancing your pleasure. The end cap can be adjusted to control the suction level, allowing you to tailor the experience to your preference. Whether you want the sensation of a gentle caress or a tight grip, the Fleshlight Ice Lady can accommodate.
Ice Lady is not your ordinary masturbator. It's a meticulously designed, high-quality product that provides an experience unlike any other. Its clear casing adds a visual element that enhances the experience, while the adjustable suction allows for personalized pleasure. Moreover, its discreet design and easy cleanup make it a practical choice. Whether you're looking to enhance your pleasure, improve your stamina, or invest in your sexual health, the Fleshlight Ice Lady is a worthy addition to your collection.
Features
• Crystal-clear casing for unique visual stimulation
• SuperSkin sleeve with varied textures for realistic feel
• Adjustable end cap for customizable suction control
Parameter
Materials:
Soft SuperSkin TPE
Total Length:
9.75 in / 24.8 cm
Insertable Length:
8.5 in / 21.6 cm
Standard Configuration
1x Vagina masturbation cup
1x User guide
1x Warranty card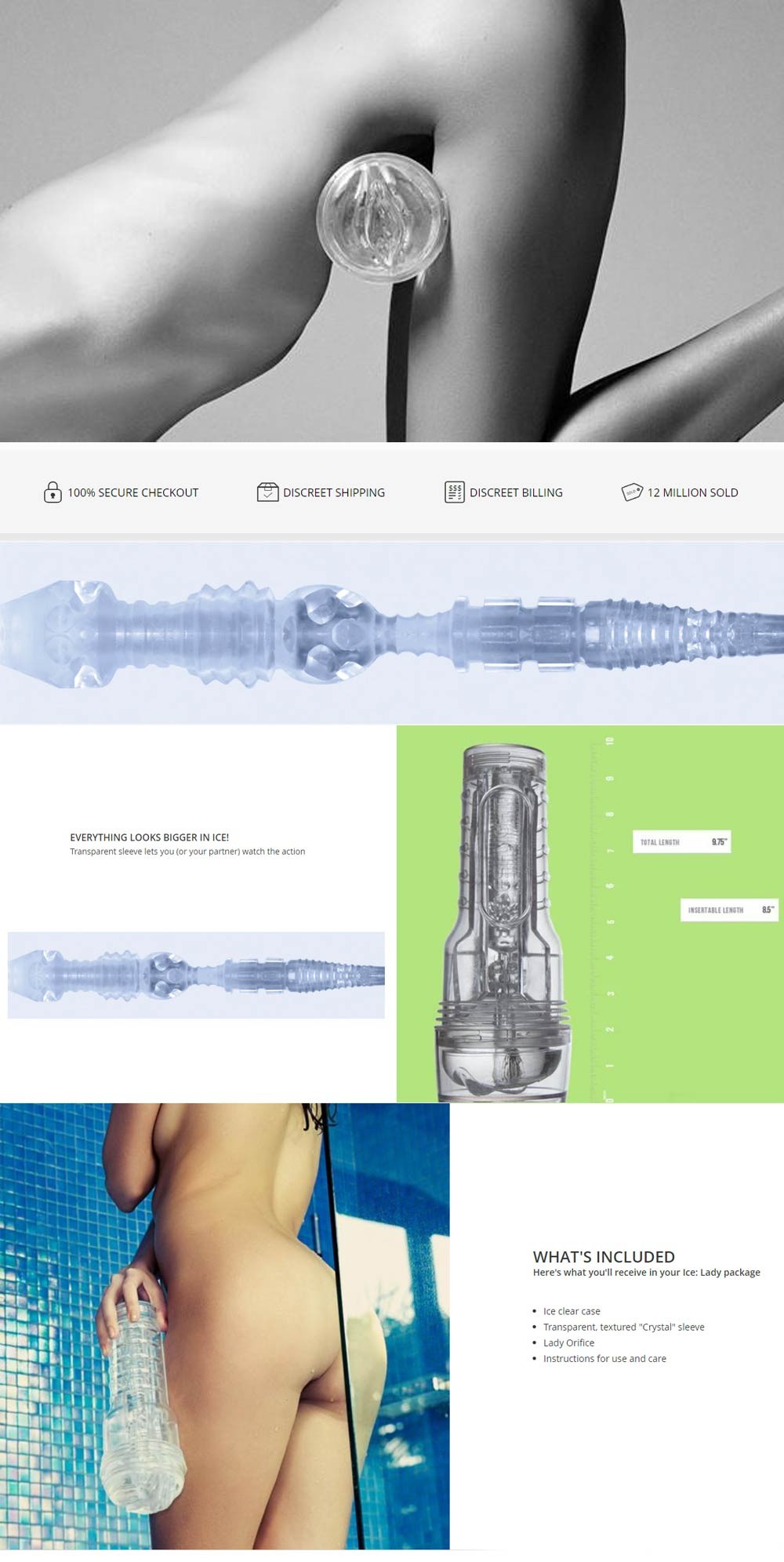 GUARANTEE
1 Year Product Guarantee. If DOA(Dead On Arrival), please contact us within 72 hours of delivery.