Introduction
Unveil an unexplored world of pleasure with the Kazumi Fleshlight Stroker, designed to deliver a stunningly real-life experience. The initial chamber greets you with an egg-shaped contour, accentuated by a net-like texture on the walls. This structure enfolds you in a warm, welcoming embrace, heightening the sensation of fulfillment and ecstasy. Each penetrating stroke stretches and massages, fostering an addictive, high-intensity pleasure you won't be able to resist.
The careful balance of finely detailed textures and the innovative egg-shaped design ensures each movement is rewarded with a surreal sensation, offering an intimate encounter like no other. Dive into this journey of bliss, as the first chamber masterfully elevates your sensual pleasure.
Venture deeper to discover the second chamber, lined with ribbing for an excitingly stimulating encounter. These ribs create a rhythmic pulsation, amplifying each glide, catapulting you into a new realm of sensual exploration. The magic is heightened when these vibrations reach the sensitive tip, sending waves of pleasure through your body, spurring an insatiable craving for more.
Be prepared for an enthralling experience as you navigate the stimulating pulsations and rhythmic textures of the second chamber. Allow the Kazumi Fleshlight to guide you into a world of sheer pleasure, with an intensity that promises an unrivaled experience.
Explore further and you'll meet the third chamber, a paradise of strategically positioned nubs, akin to tiny coins. These carefully aligned nubs offer a spectrum of pulsating delights that tantalize your senses from all directions. The resulting symphony of pleasure ensnares your nerves, producing a multi-directional stimulation that is both unpredictable and thrilling.
With every stroke, the tantalizing coin-shaped nubs amplify your arousal, leading you to the precipice of a climax. The range of sensations, along with their sporadic nature, makes for an enthralling, intense experience, propelling you towards explosive orgasms in no time.
Features
• Realistic design mimics authentic sexual experience.
• Unique honeycomb texture for heightened pleasure.
• Hyper-narrow squeeze intensifies the sensation.
• Elongated massage nubs enhance stimulation.
Parameter
Waterproof:
Daily waterproof
Materials:
Soft SuperSkin TPE
Size:
10" case, 7.75" inner case,2" width
Characteristics:
Kazumi's actual body casting
Standard Configuration
1x Vagina masturbation cup
1x User guide
1x Warranty card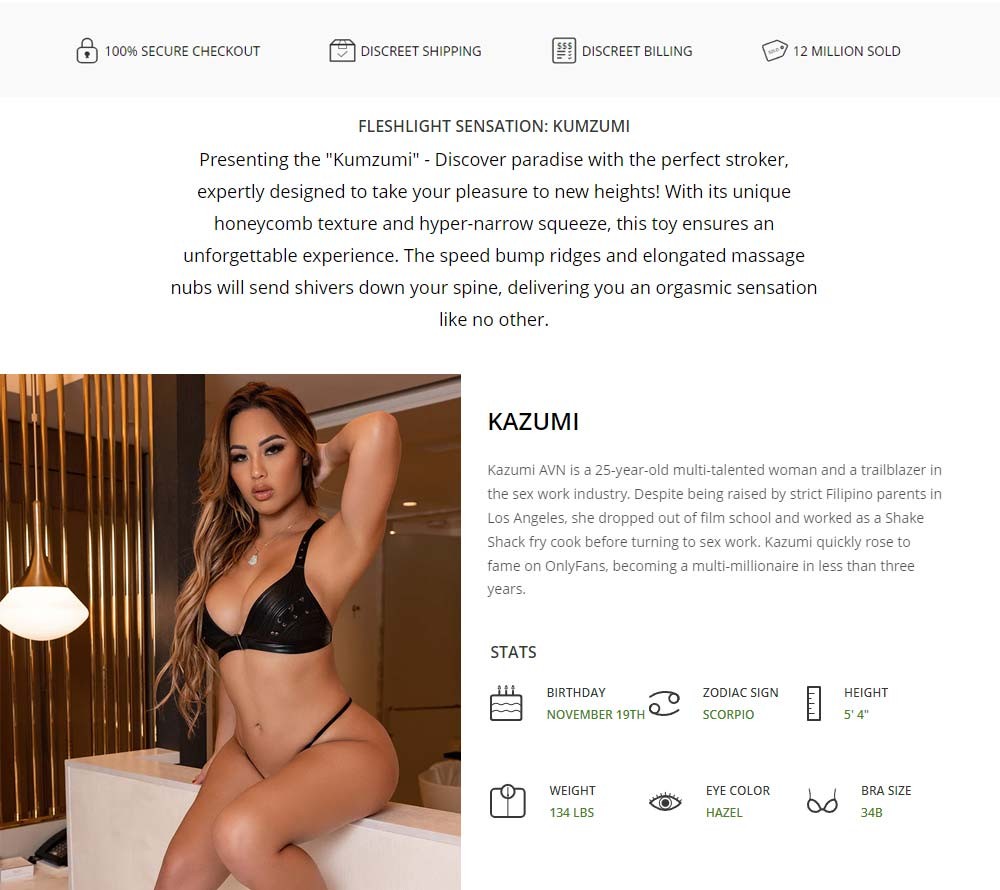 GUARANTEE
1 Year Product Guarantee. If DOA(Dead On Arrival), please contact us within 72 hours of delivery.