Introduction
This device, an innovation from Fleshlight, provides an unfiltered voyage into the intimate anatomy of Riley Reid, offering a double delight molded from her very own intimate areas. The Quickshot, featuring the alluring realism of both Riley's vaginal and anal orifices, is a versatile device designed to add an extra layer of excitement to your private moments or shared experiences.
The Riley Reid Quickshot, with its compact design and clear casing, is a sight to behold. The clear SuperSkin sleeve, a patented design from Fleshlight, offers a visual thrill that complements the physical sensations. As you indulge in self-gratification or engage in a passionate encounter with a partner, you can witness every gratifying moment. The transparent nature of the Quickshot not only heightens the visual appeal but also stokes the fires of your imagination, giving you a fully immersive experience.
This enticing device comes complete with two of Riley Reid's signature features. On one end, there's the mini butt orifice with a compact texture that faithfully replicates the unique sensations of Riley's anatomy. Flip it around, and you'll find the mini vaginal orifice, meticulously crafted to capture the realistic feel of intimate penetration. The dual-ended design of the Quickshot makes it a versatile accessory, offering a multitude of ways to indulge your fantasies.
The compact size of the Quickshot, coupled with its discreet casing, makes it a perfect travel companion. You can take your Riley Reid Quickshot wherever you go, ensuring that pleasure is always within your grasp. This user-friendly device is also remarkably easy to clean thanks to its open-ended design, allowing you to maintain it in prime condition with minimal effort.
With the Riley Reid Quickshot, you're not just purchasing a product; you're investing in a sensational experience. This device, steeped in the allure of Riley Reid, promises a stimulating encounter that blurs the line between fantasy and reality. Whether you're a fan of Riley or simply a connoisseur of pleasure, the pocket pussy is a must-have addition to your collection.
Features
• Double delight with vaginal and anal orifices
• Patented clear SuperSkin sleeve for visual stimulation
• Easy-to-clean, open-ended design for effortless maintenance
Parameter
Materials:
Soft SuperSkin TPE
Total Length:
4.4 in / 11.2 cm
Insertable Length:
3.5 in / 8.9 cm
Standard Configuration
1x Masturbation cup
1x User guide
1x Warranty card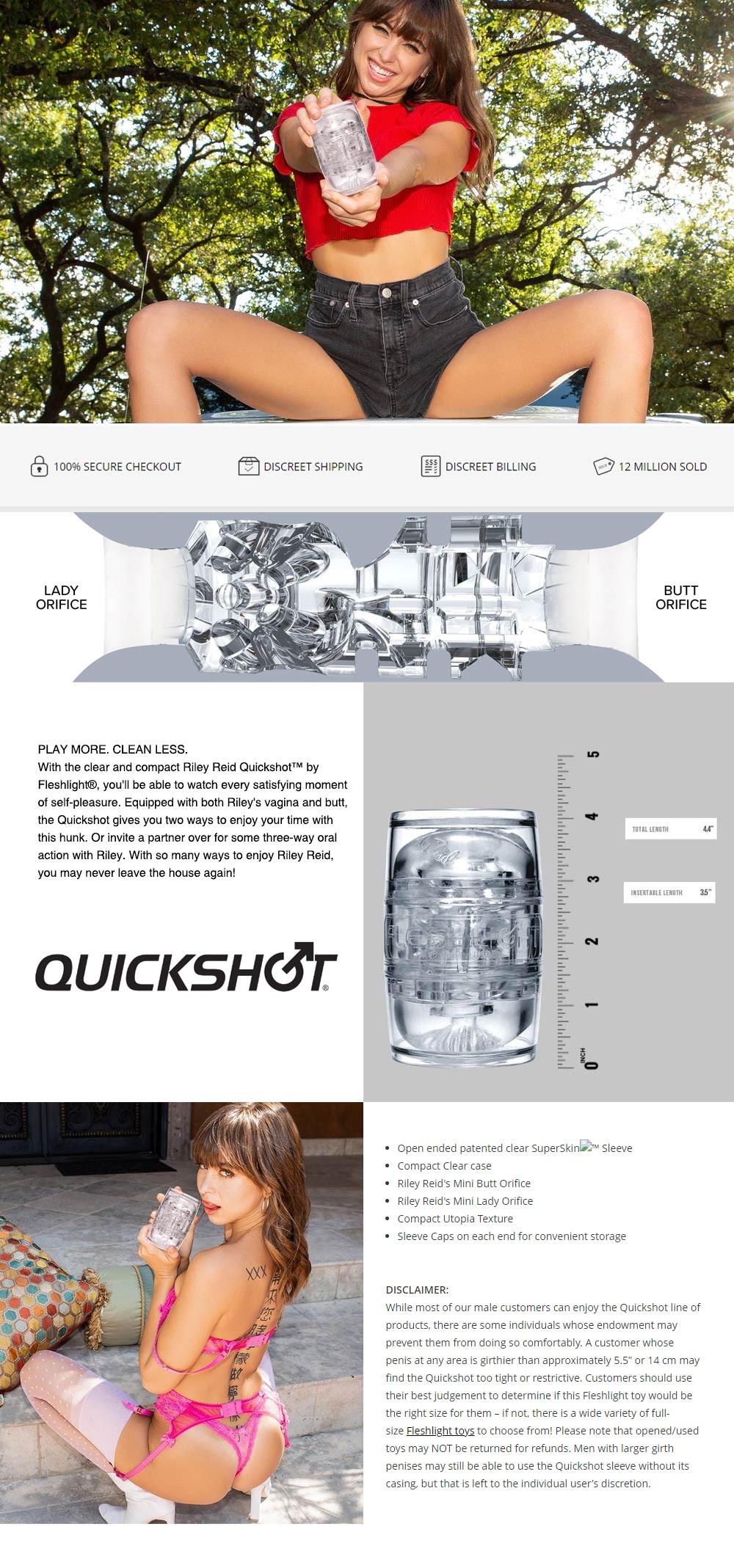 GUARANTEE
1 Year Product Guarantee. If DOA(Dead On Arrival), please contact us within 72 hours of delivery.