Introduction
Slide the Le Wand Bow into position, apply firm pressure against your G-spot or stimulate the prostate for an extraordinary climax. Its dual-ended design offers unique experiences; the bulbous, ridged end doubles as a vaginal exerciser, while the smaller, precisely-shaped end provides targeted stimulation to elevate your intimate moments.
The acclaimed hardness, weight, and hygienic properties of stainless sex toys are all found in the Le Wand Bow. Its compatibility with all lubricants opens up a world of exploration - try cooling or warming the wand for thrilling temperature play.
If you're a Kegel enthusiast, the Le Wand Bow will appeal to you with its ingenious design. The larger bulbous end, complemented by tantalizing ridges, doubles as a vaginal exerciser. Its curved form ensures easy handling and reach, delivering pleasure right where you desire.
The bulbous end can function as a dildo or a vaginal exerciser, offering you versatility. The swirl ridges add an extra layer of excitement with their intense internal stimulation. The smaller teardrop end is perfect for a blissfully targeted G-spot or P-spot massage.
Unleash your sexual prowess with this sleek stainless steel instrument of pleasure. The Le Wand Bow not only delivers deep, resonating pleasure and delight in the deeper pleasure of a more toned pelvic floor.. Its larger end, adorned with stimulating ridges, makes each training session a thrilling encounter.
Add a dash of anticipation to your intimate moments by immersing the Le Wand Bow in warm or cool water before use, for amplified sensations.
Features
• Dual-ended design for versatile G-spot or prostate stimulation.
• Bulbous end with ridges serves as a vaginal exerciser.
• Suitable for temperature play, offering varied sensations.
Parameter
Size:
7.95 x 1.33 x 1.1 in / 20.19 x 3.38 x 2.79 cm
Bulk Weight:
1.11 lbs / 503.5 g
Standard Configuration
1x Dildo
1x Storage bag
1x Manual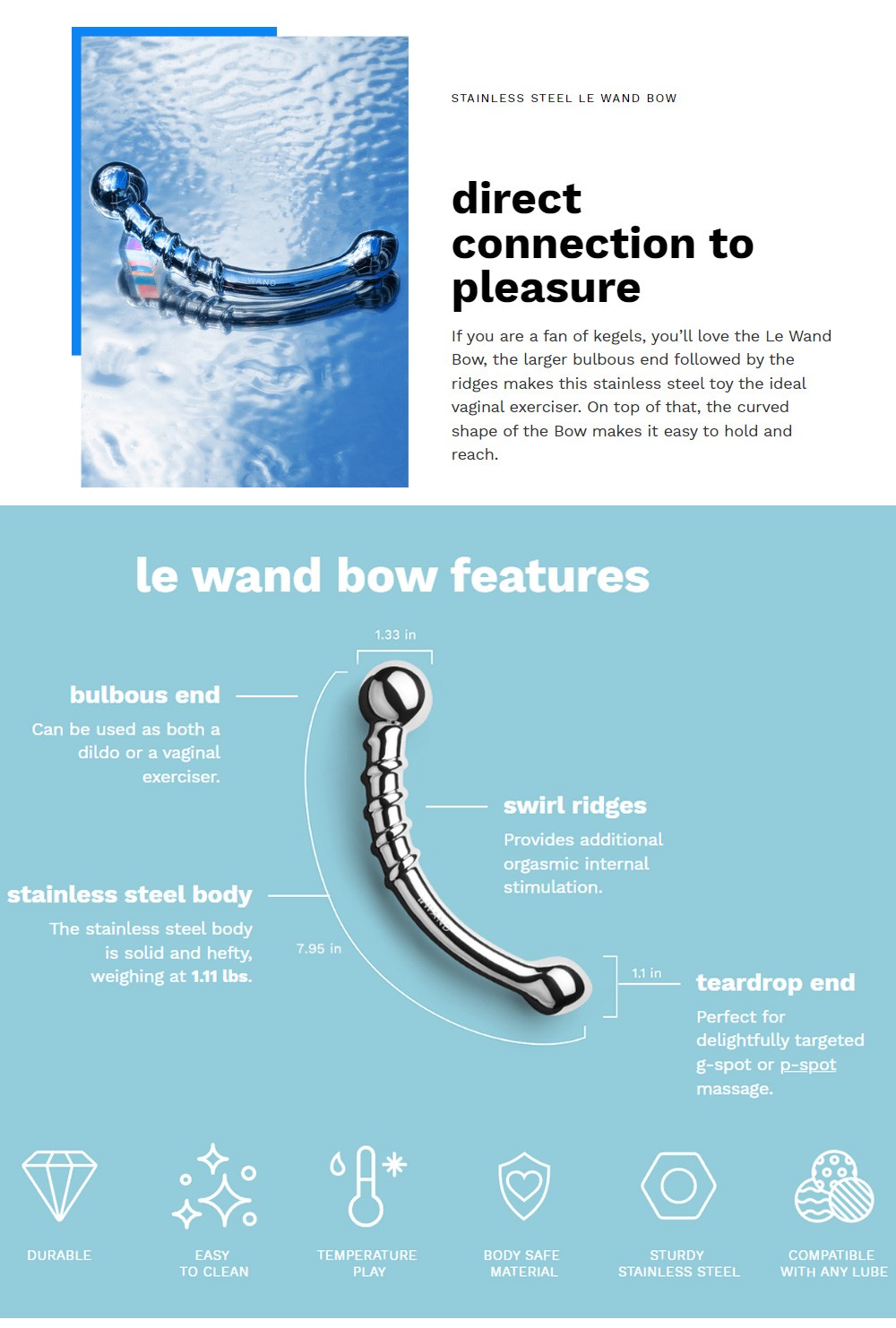 GUARANTEE
1-Year Product Guarantee. If DOA(Dead On Arrival), please contact us within 72 hours of delivery.