Introduction
Introducing the Le Wand Necklace Vibe – a bold and sex-positive fashion accessory that allows you to indulge in orgasms anytime, anywhere! This sleek, dual-purpose vibrator doubles as stylish jewelry, ensuring you're always ready for thrilling and satisfying vibrations, regardless of your location.
The Le Wand Necklace Vibe is the epitome of sophistication and discretion, providing you with potent, quivering sensations while maintaining an air of elegance. Embrace your sexuality with this truly unique pleasure accessory that serves as a fashionable addition to your wardrobe.
Crafted from 100% stainless steel, the Le Wand Necklace Vibe is not only body-safe but also incredibly easy to clean, ensuring long-lasting enjoyment. Explore the various sensations that come with its chrome exterior, offering a silky-smooth texture and the ability to experiment with temperature play.
Designed for versatile stimulation, this chic vibrating necklace is ideal for clitoral, nipple, or external vaginal pleasure. Wear it confidently as an alluring piece of jewelry, knowing it's ready to bring you intense satisfaction whenever you desire.
Enhance your style and pleasure simultaneously with this slender, inconspicuous vibrator that transforms into a luxurious accent for any outfit. Choose from four sophisticated colors, each one a stunning addition to our Chrome Mini Vibes collection. With eight different vibration modes and an ultra-quiet motor, you can customize your experience to suit your preferences, no matter where you are.
The Le Wand Necklace Vibe features a 26" nickel-free, stainless steel chain, with an optional 4" extender for adjustable length and comfort. Included in your purchase is a USB charger and a discreet micro-suede travel pouch, allowing for easy and inconspicuous transportation during your sensual adventures.
This irresistible piece of sex toy jewelry is a must-have for those who enjoy playful and exhilarating experiences, both in public and in private settings. The Le Wand Necklace Vibe combines potent vibrations with a slim, elegant design, offering an unparalleled experience of pleasure and style.
Boasting eight divine vibration modes, this whisper-quiet powerhouse ensures that you can enjoy personalized satisfaction in any setting. Don't compromise on style or pleasure – make a statement with the Le Wand Necklace Vibe, the perfect blend of beauty and function.
Allow yourself to be captivated by the Le Wand Necklace Vibe – a daring, sex-positive accessory that combines fashion and pleasure for the ultimate indulgence. This chic, powerful vibrator is the perfect companion for any adventurous soul seeking discreet satisfaction on the go. Don't miss out on this extraordinary addition to your collection – order your Le Wand Necklace Vibe today and experience unparalleled pleasure and style.
Features
• 8 Vibration Modes
• One Press Control
• Shower-Friendly
• Whisper Quiet
• Body Safe Material
• Travel Lock
Parameter
Waterproof:
IPX7 waterproof
Material:
Stainless Steel
Vibrator Size:
94 * 10 mm / 3.7 * 0.39 in
Chain Necklace Size:
660 mm / 26 in
Extender Size:
100 mm / 3.93 in
Vibrations:
8 Vibration Programs
Standard Configuration
1x Vibe
1x Chain Necklace
1x Extender
1x User guide
1x Warranty card
1x USB charging cable
1x Storage Bag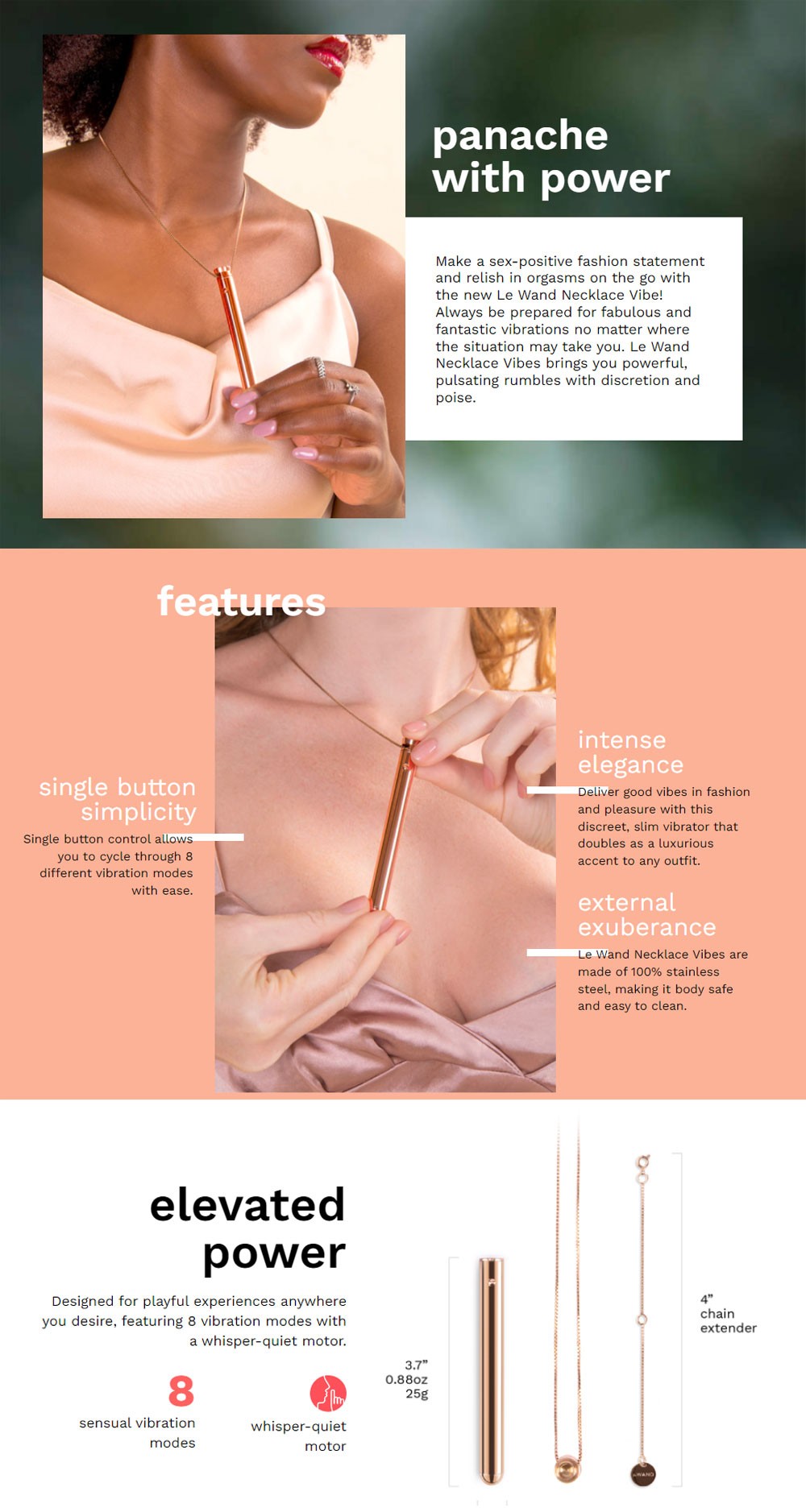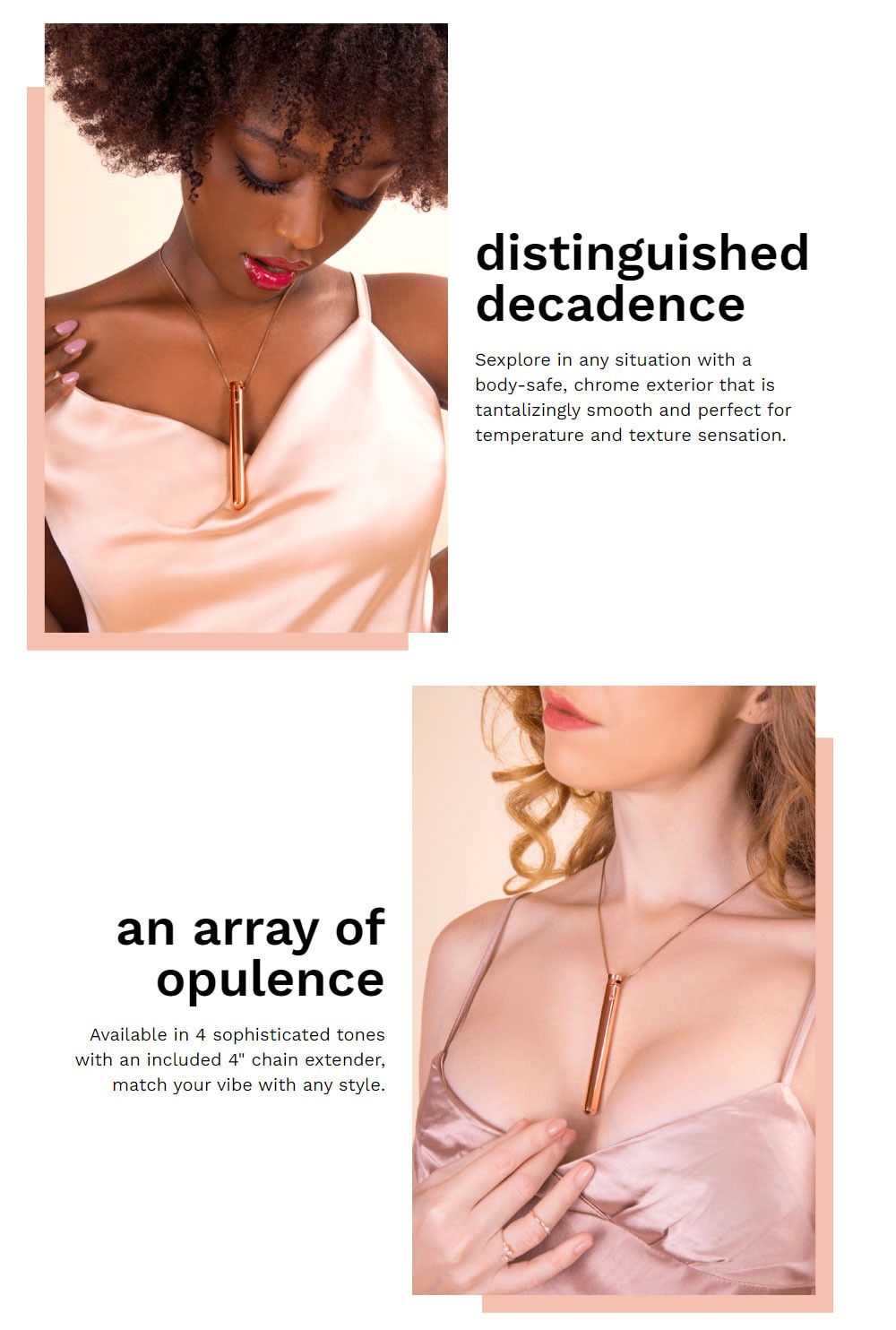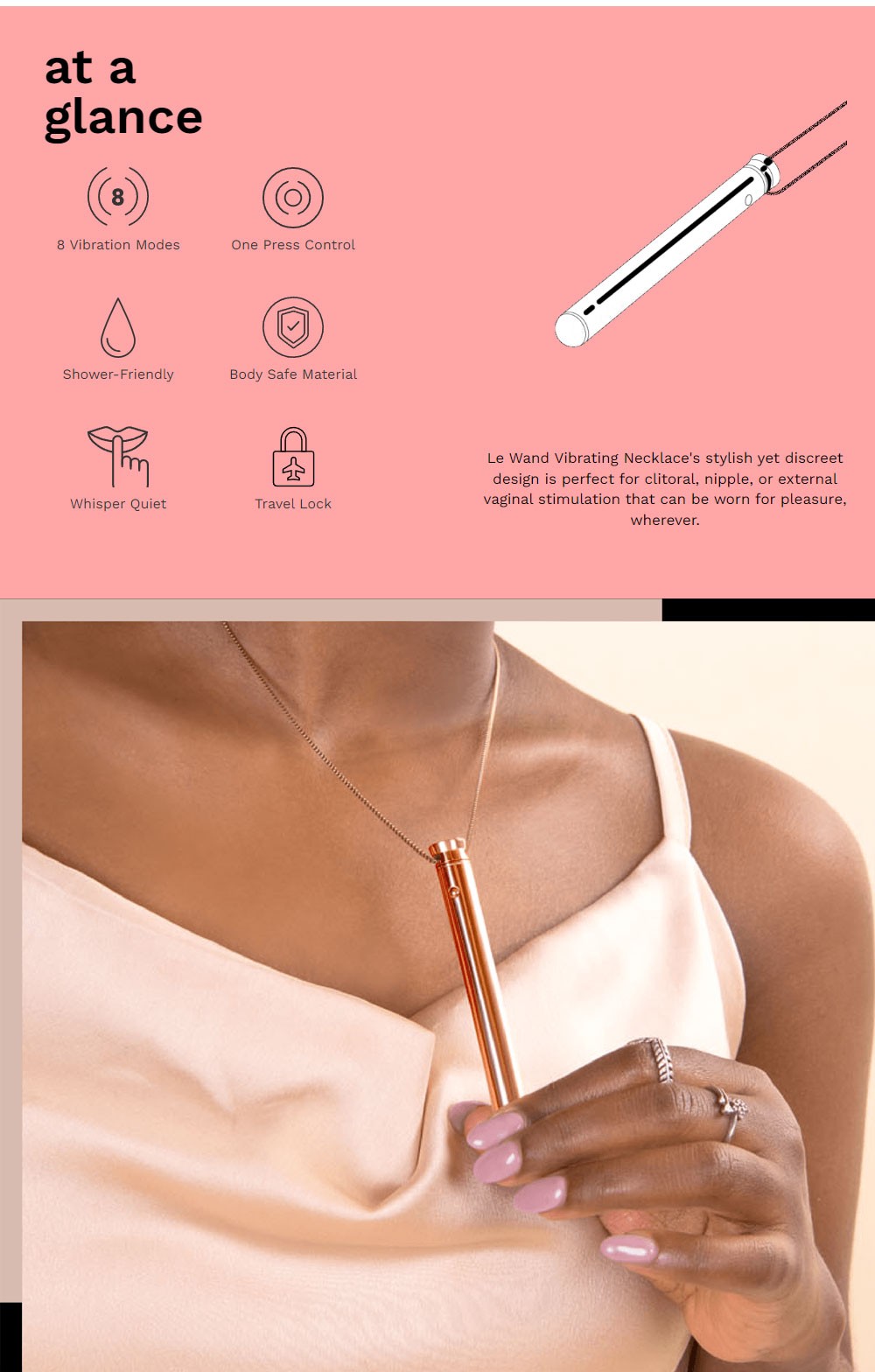 GUARANTEE
1-Year Product Guarantee. If DOA(Dead On Arrival), please contact us within 72 hours of delivery.