Introduction
The Wowyes Share couples resonance vibrator. Remote control stimulation for couples. Waterproof fun comes complete with wire for charging. Couples enjoy co-climax. The climax of two people is the ideal flirt. While stimulating the male and female private parts, when the flap, the vibrator fun in the small end of women's private parts, the larger end will automatically fit the female external clitoris. Male penis from below into the product, so as to reap the resonant pleasure. The perfect combination of vibrator and massager, operated by wireless remote control, it is more than just back and neck massages, also suitable for female clitoris stimulation, male prostate massage, or couples flirting. Wowyes Share vibrator is a wearable wireless remote control vibrator egg, whether at work, the streets, or in recreational sports. Let you enjoy it, enjoy the joy tide!
Built-in two high-speed quiet motors, felt strong and low power consumption, with five kinds of shock modes, each has three adjustable control. 5 speed powerful motors indulge yourself in various levels of sensation and immediately activate the irresistible climax, deeply stimulate every spot you can imagine. This product uses liquid silicone, silicone-one design, a seamless no-dead, skin-friendly technology, soft touch! Unique ergonomic design to create the ultimate G-spot Stimulation to achieve an unforgettable mutual orgasmic experience with your partner. IPX7 waterproof, your own guilty pleasure in the tub or pool, easy to wash. Wowyes Share vibrator has a noise of fewer than 40 decibels at work, providing sleep-level silence. A quiet motor allows you to not let the quiet room others hear, to create more private happy hour. This G-spot vibrator is small enough to pack in a bag and travel, rechargeable with a USB cable.
Features
• Couples resonance vibrator, enjoy co-climax
• Two high-speed quiet motor, with five kinds of shock modes
• Silicone-one design, skin-friendly technology
• Quiet sleep level, lower than 40DB
• IPX7 waterproof, ready to enjoy
• Remote vibrating egg wearable, wireless control
• Ergonomic U design creates the G-spot stimulation
• Multi sex scene use, enjoy the pleasure of wild passion
Parameter
Size: vibrator: 49.92mm * 31.3mm * 89.3mm
remote control: 36.86mm * 30.54mm * 84mm
Material:
PC-ABS / silicone
Battery:
Lithium-ion 920 mA 3.7 V
Charge:
2 hours 500 mA 5.0 V
Usage time:
Last up to 2.5 hours
Standby time:
30 days 100 Hz
Interface:
3 buttons, 5 vibration modes
Standard Configuration
1x Wowyes Share Vibrator
1x remote control
1x exquisite gift boxes
1x high-quality USB charging cable
1x exquisite velvet pouch
1x user manual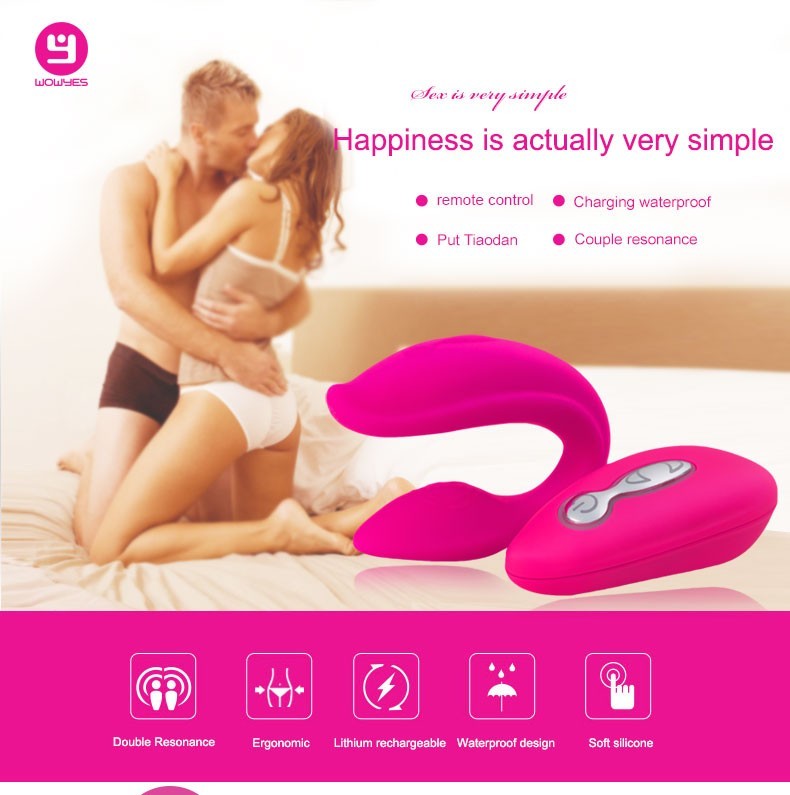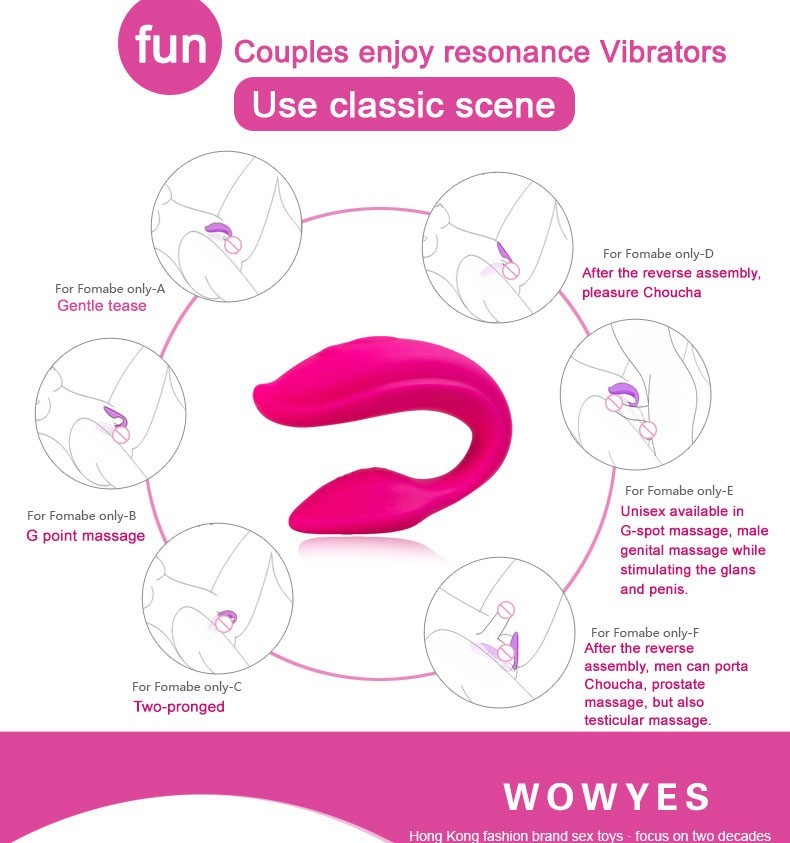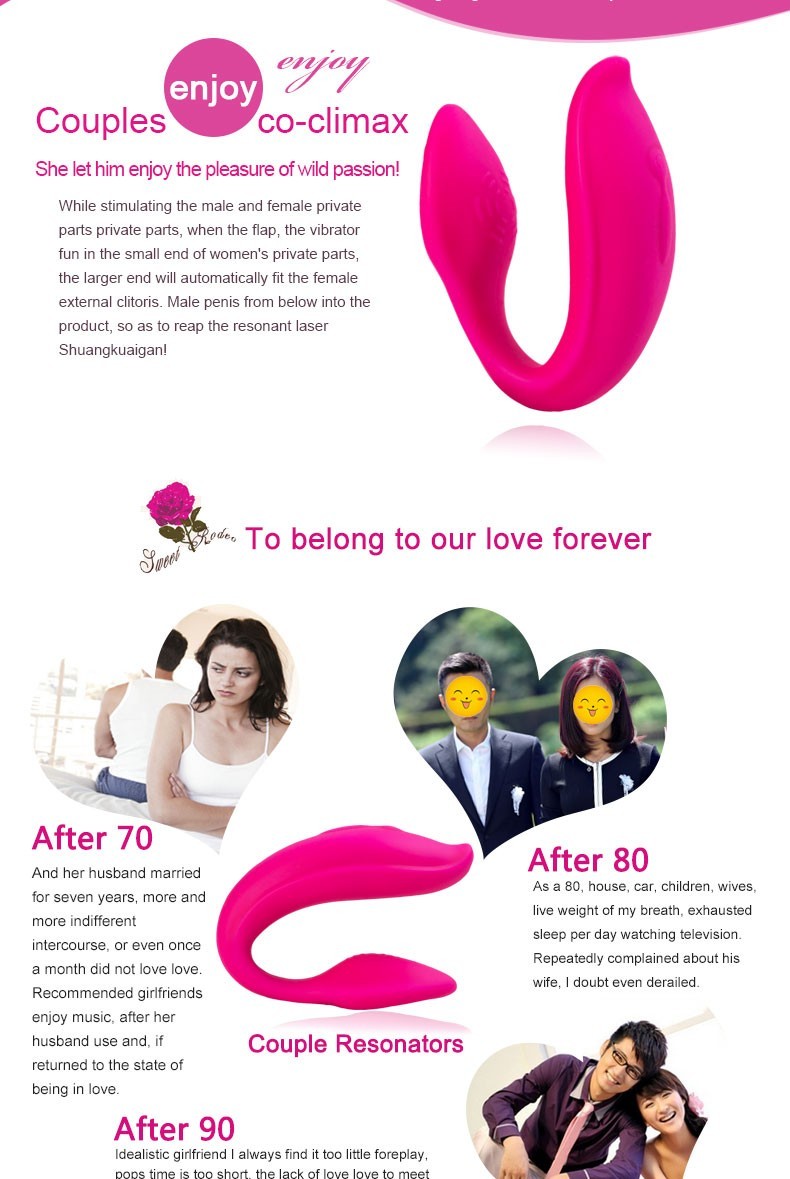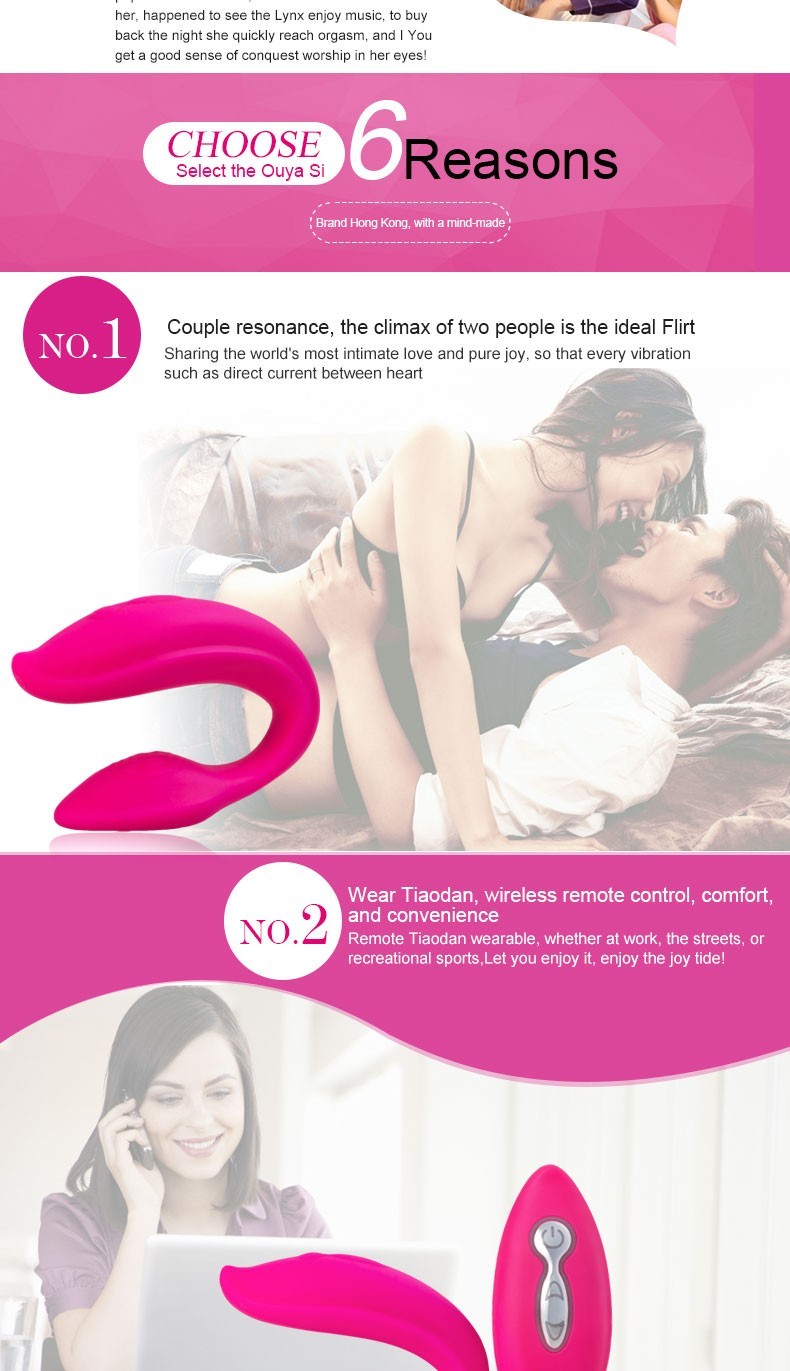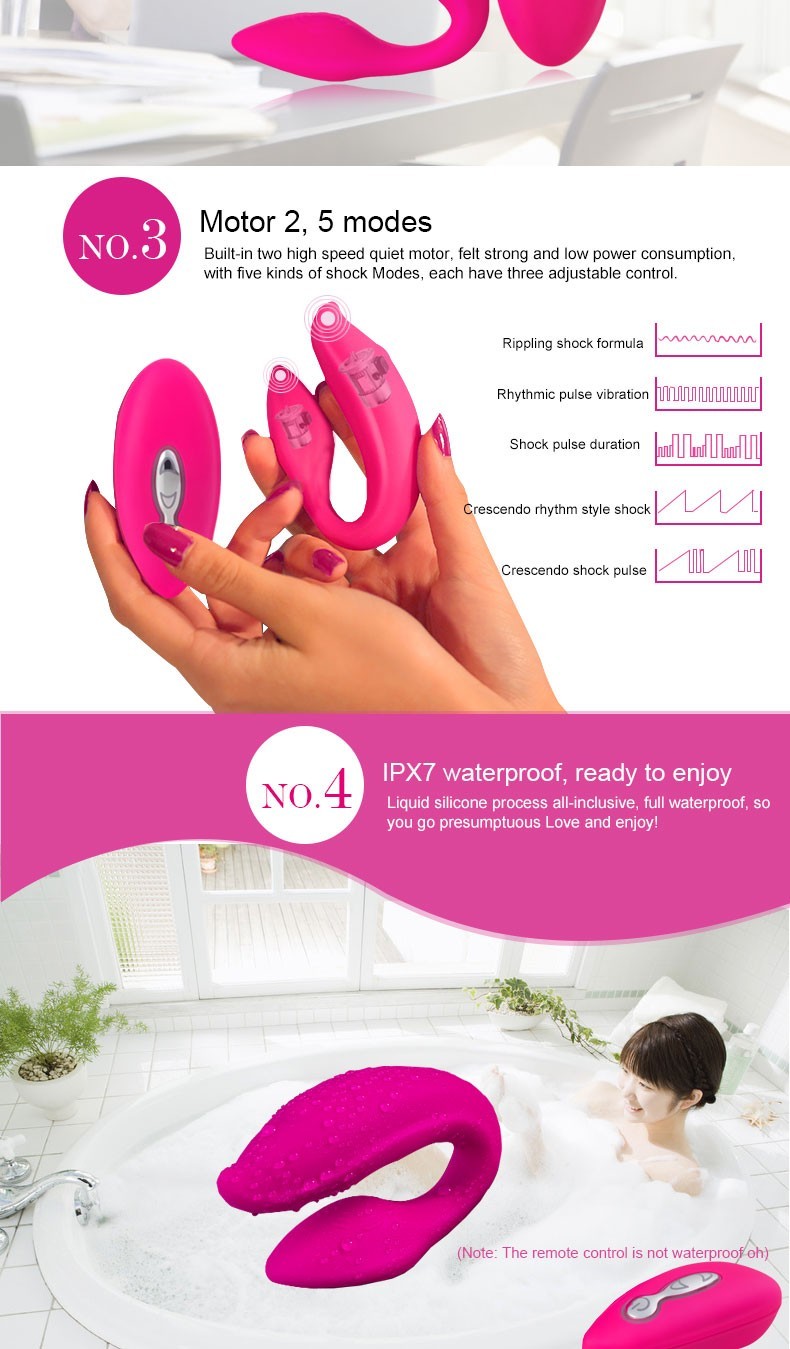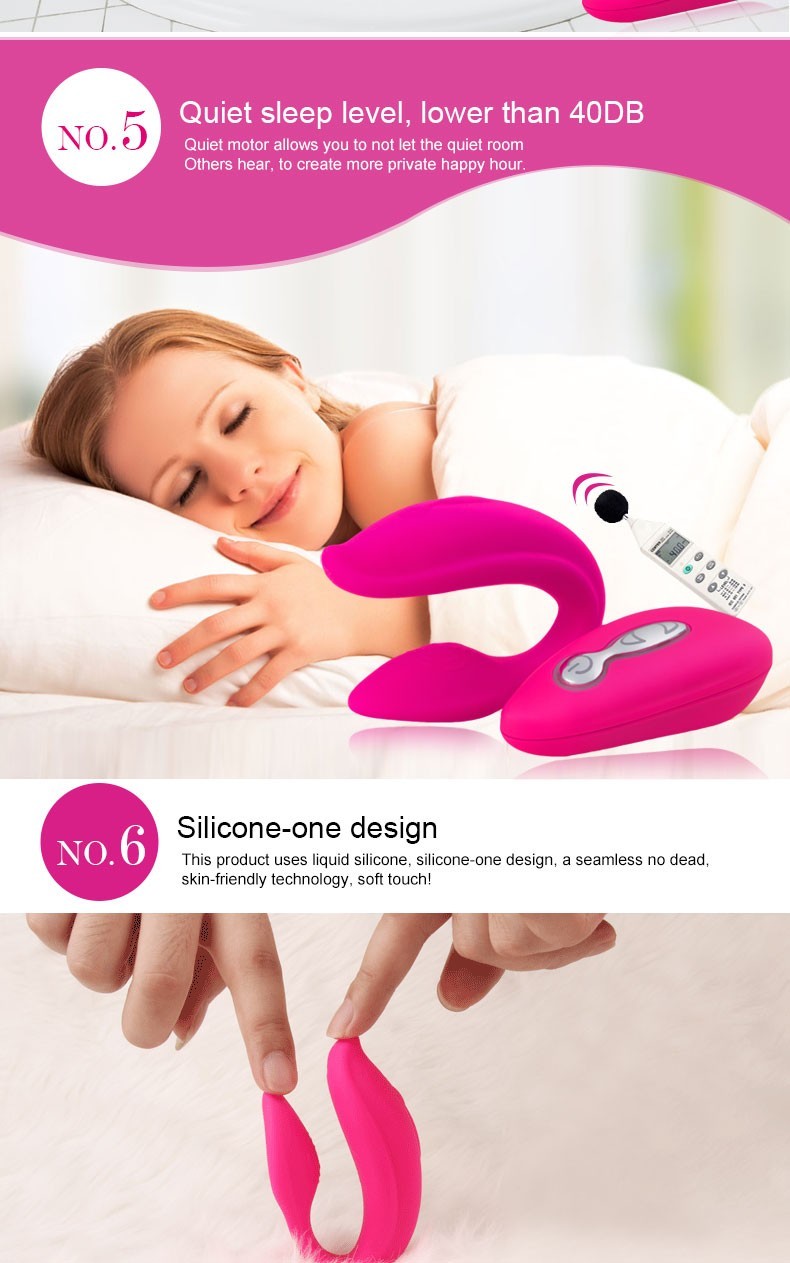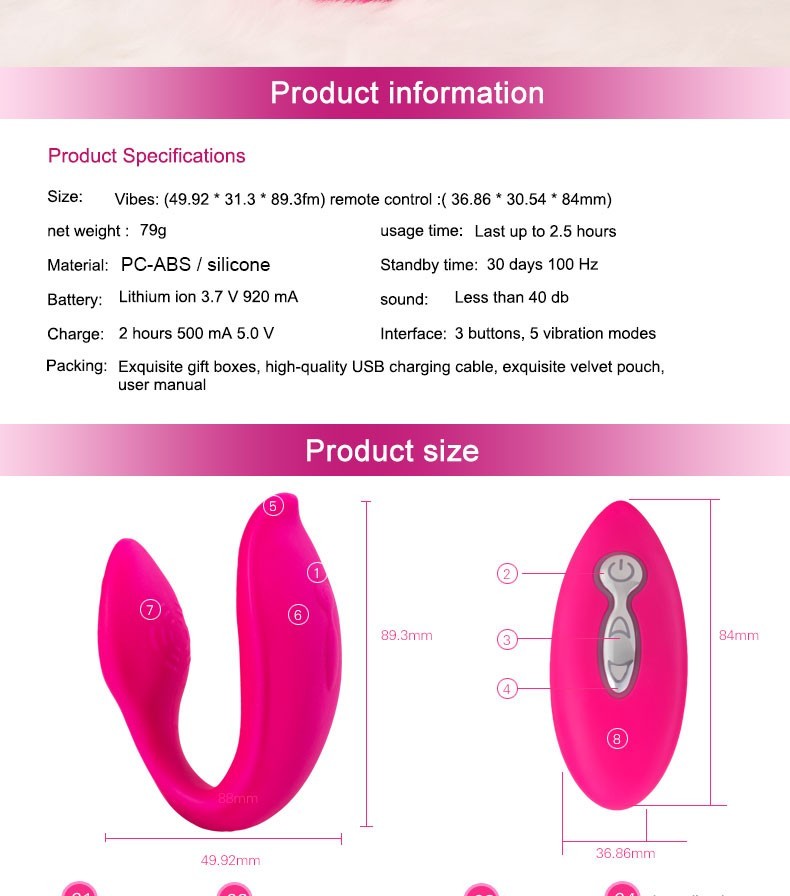 GUARANTEE
1 Year Product Guarantee. If DOA(Dead On Arrival), please contact us within 72 hours of delivery.